There are a good number of Bitcoin poker freeroll tournaments available for any Bitcoin poker enthusiast. Freeroll is a poker tournament where a player can join without paying the entry or buy-in fee.
Some people might think a freeroll tournament is a demo game where there is no real money at stake. They think they will only win fun money that is not convertible to Bitcoin or actual cash. However, the authentic freeroll tournaments listed below are offering actual money or an entry into a major tournament that has a large prize pool.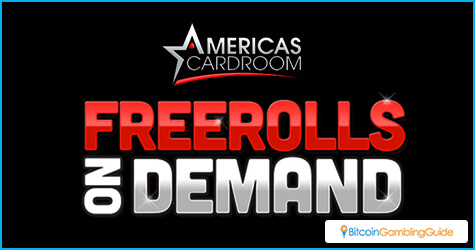 Americas Cardroom: Freerolls on Demand
Americas Cardroom freeroll tournaments are available at any time of the day and week. Freerolls on Demand does not have any schedule as to when they will begin. Instead, the free tournaments only start when 270 players register for it. There is a 'late registration' period of 30 minutes for every tournament to ensure more people can join.
For one week, players can accumulate points by joining the top 10 players of a tournament. The 10 players who can collect the most points will win a free entry to Americas Cardroom Sit & Crush tournament. The first placer will get a free shot at the Sunday tournament. The buy-in for this type of tournament is $215. Players will also find other Americas Cardroom poker promos online.
Betcoin.ag freeroll tournaments
Betcoin.ag follows the same freeroll tournament format as Americas Cardroom. More than 200 players play against one another to gather points throughout the duration of the tournament. The top 10 or five players who are able to get the most points win the prize pool. The prize is often fiat cash or Bitcoin. The highest placers will receive a majority of the prize.
Betcoin.ag also has special freeroll tournaments that require a password before a player can register for it. Players can find these passwords through Betcoin's newsletters or a third-party website. These special tournaments often have a higher prize pool than normal.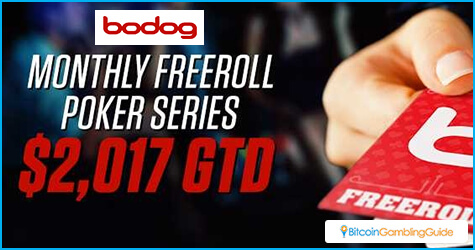 Bodog freerolls tournament
Bodog has a large variety of freerolls available. Its free-for-all tournament does not have any requirement for players to join. Bodog's other tournaments usually require players to gain points from betting with cash or by reaching a certain VIP level for their profile. Making a deposit might provide a player with a free entry to a promotional freeroll tournament.  Bodog Poker's expansion to Latin America welcomes more players to experience its freerolls.
RedStar Daily, Monthly and Sunday Freeroll
To participate in any of Red Star's freerolls, players need to have a bank account. Players do not need to send in a deposit from the account. The freerolls from Red Star have a higher prize pool than other poker sites. Certain freerolls tournaments may require players to play in a paid poker game a number of times before they can register for them.