This weekend is going to be a special one with the US celebrating its Independence Day on the 4th of July. A lot of people have plans for this weekend, but there is no better way for an online gambler to celebrate than by placing a few wagers and winning. BetChain Casino recognizes this and has plans for those who think Lady Luck will smile down on them.
BetChain Weekend Promo
For those interested in the BetChain weekend promo, here are some of the details. The bonus is not just a celebration of US' independence, but also that of Canada's recognition as a single country. This is why the promo starts from June 30 and runs until Monday, July 4.
Players making deposits through July 1, which is Canada Day, will be getting a 150-percent bonus on their deposit. There is a daily limit of 0.25 BTC or $/€ 25, though.  This means that players only receive that much of a bonus once a day. This promo lasts until Saturday.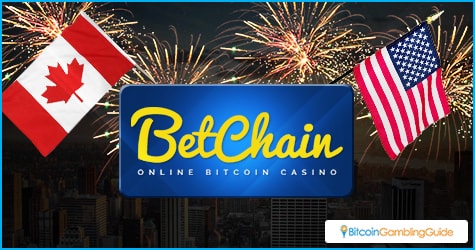 For Independence Day, players can get 24 free spins on the slot game of their choice. This is one for every decade of US independence. All that a player has to do is to deposit either 0.24 BTC or $/€ 24, on Saturday, July 2, or Sunday, July 3. The free spins will automatically be credited to their account.
With these bonuses, bettors could have quite a fun time on BetChain, with all of the betting options that the site can offer. Those free spins can be useful when they want to play some of the great slot games out there like NetEnt's Gonzo Quest slot and Startburst slot.
This weekend promo is just one of the several promotions launched by BetChain Casino in the past to celebrate special occasions like the Christmas and the Black Friday.
More to look forward to
The BetChain promo is not they only event online gamblers can participate in. This weekend also sees the remainig Euro 2016 quarterfinal matches. Sports bettors can now place their bets on major sportsbooks like VitalBet, SportsBet.io, and Nitrogen Sports. The matches are Wales versus Belgium, Germany versus Italy, and France versus Iceland.
These games will narrow down the Euro 2016 field down to four, making them very important to fans. Belgium, Portugal, Germany, and France are the favorites to win, but nothing is set in stone when it comes to sports. Iceland bettors can potentially get back 10 times their initial bet, depending on the odds that the sportsbook lays out.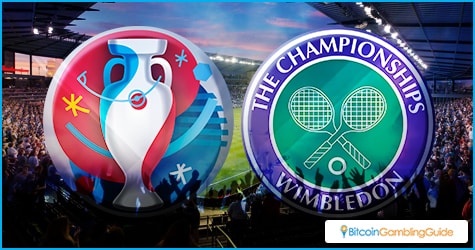 Football is not the only game having an eventful weekend. The matches at Wimbledon continues and although the men's division matches may not be exciting, the women's division has two matches people may want to place a wager on. First, Serena Williams is up against Christina McHale, while Svetlana Kuznetsova faces off against Tara Moore. Williams and Kuznetsova are the two favorites to win and watching their progress is always interesting.
Sports bettors and online gamblers will have a weekend full of fireworks and competition with all these events lined up. Other than the celebrations, these promos and matches should make it a fun time for all of them.