The majority of online casinos these days accept a wide variety of payment options. However, one thing they seem to have in common is a preference for payment methods that allow for fraud and chargebacks. This is not a conscious choice, but the most popular online payment solutions rely on credit and debit cards. These inherently insecure payment methods can add a lot of unnecessary friction to the online gambling experience.
Fiat-operated casinos stick with what they know
Looking at the most commonly used online casinos that do not accept Bitcoin, specific payment options can be found across all of these platforms. Credit and debit cards are directly accepted, Skrill is often supported as well, and NETELLER has made a name for itself in the gambling industry too.
Albeit all of these payment options are commonly used on the Internet, and offer a secure environment, there are some drawbacks as well. Relying card payments—even through a third party—open up casinos to fraud and chargebacks. That is the inherently insecure nature of payment cards; unfortunately, as some people argue they were never intended to be used on the Internet to begin with.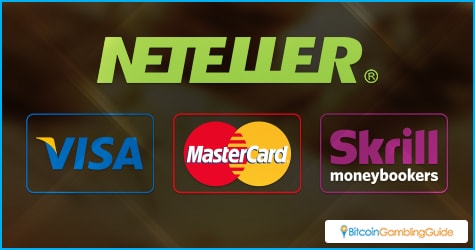 For users who want to avoid payment cards altogether, the alternative options are a bit more limited. Some companies may accept check payments, albeit that is not the most secure option either. Bank transfers are possible as well, but they are not always a guarantee to deposit or withdraw funds instantly. That may not be much of a deal breaker for most people, but it would be more convenient to get funds transferred a bit quicker.
There are other reasons these payments do not provide the best user experience. Anything related to a payment card will strip user privacy immediately. Plus, there are high fees associated with accepting credit or debit card payments. Third-party service providers relying on this payment option add their own fee on top. For the end user, this is not a fun experience, and a costly way to wager online.
Bitcoin checks all boxes to provide a better experience
It is not difficult to see why Bitcoin is a better payment option for online casinos. There are no fraud or chargeback concerns to worry about, which is a big bonus in its own right. Moreover, transaction fees are kept to a bare minimum, and will only be paid by the sender. Given the current minimal transaction fee on the Bitcoin network equaling to $0.10 on average, that is much cheaper option compared to other offerings.
More importantly, Bitcoin has a global appeal that no other online payment method can offer. Users anywhere in the world can deposit funds to an online casino in mere seconds, and start playing right away. This is great news for casino operators as well, as they can expand their customer base at no additional cost.
Unfortunately, it will take quite some time until online casino operators will see the benefit of Bitcoin. It will take them a major shakeup to expand into the cryptocurrency world. This is quite strange, as they can offer Bitcoin as an additional deposit method instead of replacing the others. Giving it a try will not hurt, nor does it cost anything, except when a Bitcoin payment processor is tapped.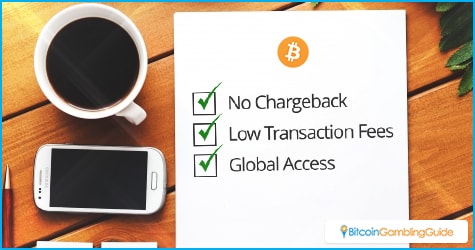 If Paypal continues its aggressive policy regarding Know-Your-Customer practices, that change may be forced upon casino owners sooner rather than later. PayPal has shown their policy on collecting as much customer information as possible. File sharing provider Seafile learned that the hard way, and they decided to drop PayPal in favor of Bitcoin as a result.
Change is coming in the online payment industry, and it would be in everybody's best interest to go with the flow. There are so many casinos already accepting Bitcoin payments, and they are all thriving. Take a look at platforms such as BitStarz, Cloudbet, Nitrogen Sports, FortuneJack, and others. All of them are extremely popular and bring in a ton of monthly revenue, simply because they accept Bitcoin. It doesn't take a PhD. in Rocket Science to figure out what the best course of action is for any online casino operator right now.