Bitcoin Flip Overview
Bitcoin Flip is unlike most websites we've reviewed. Instead of gambling with Bitcoin or cryptocurrency, you will make simulated trades. Investing is one of the biggest gambles a person can make, and Bitcoin Flip gives you a chance to experience the ups and downs of buying selling Bitcoin in real-time.
Bitcoin Flip was created back in 2012 by Laura Rolands and some friends over at Finance Illustrated. The site is a trading simulator for beginners and lets you get your feet wet in the world of Bitcoin investing. Learn more about this site and how to make trades.
Bitcoin Flip Details
| | |
| --- | --- |
| Established | 2012 |
| Cryptocurrencies | 20+ |
| Compatibility | Mobile, Desktop, Tablet |
| Type | Bitcoin Trading |
| Sign up Process | Facebook |
How to Play Bitcoin Flip
The concept of Bitcoin Flip is simple. You are buying and selling cryptocurrency. However, you are doing this risk-free as you're using play money and play crypto. This is the only "game" available on the website. The base game allows you to trade Bitcoin, Ethereum, Litecoin, and Ripple, all using real-time stats.
Just pick your digital asset and choose to either Buy or Sell. You can trade Bitcoin Ethereum Litecoin Dashcoin, or one of 24 cryptos. Select the amount of money you wish to invest and the leverage. The leverage is the number of trades or instances of crypto you're trading at once. For example, if you invest $500 at 2x leverage, you're investing $500 twice.
After each trade, the site tells you whether you won or lost, and your total profit or loss. The site also gives you a trading history of your trades. Top traders on the site will be featured on the leaderboard.
Software Features and Graphics
The site runs on proprietary software and features a running chart connected to a major online cryptocurrency exchange. You can watch real-time cryptocurrency trading occur and the wild swings that can occur. Note that the graphs represent real money trades occurring in real-time.
The software is very simplistic, and pretty much what you would expect if you were watching real-time trades from a crypto exchange. New users shouldn't have much trouble figuring out what to do as the controls are very user friendly.
Account
You don't need an account to try out Bitcoin Flip. Players can opt to log in as Guest or create an account via Facebook. If you wish to remain anonymous, then a guest account is your best bet. Logging in via Facebook gives the site access to personal data and even posts your avatar on the leaderboard.
Note that if you want to trade in anything other than Bitcoin, Litecoin, Ripple, or Ethereum, you must log in via Facebook.
Bitcoin Flip Pros & Cons
Pros
Real-Time Trading Simulator
Trade in 20+ Cryptocurrencies
Instant Trade Executions
Trading History Available
Cons
Simulation Only
No Customer Support
Need Account to Trade in All Cryptos
Bitcoin Flip Imagery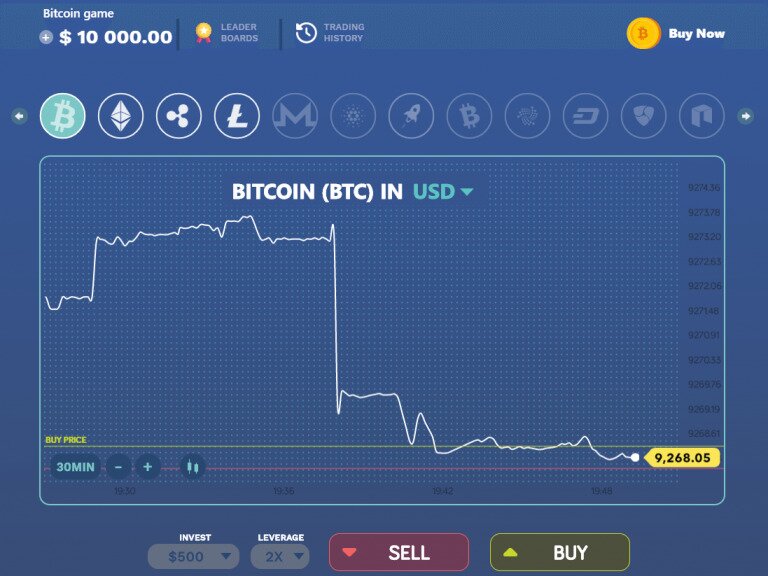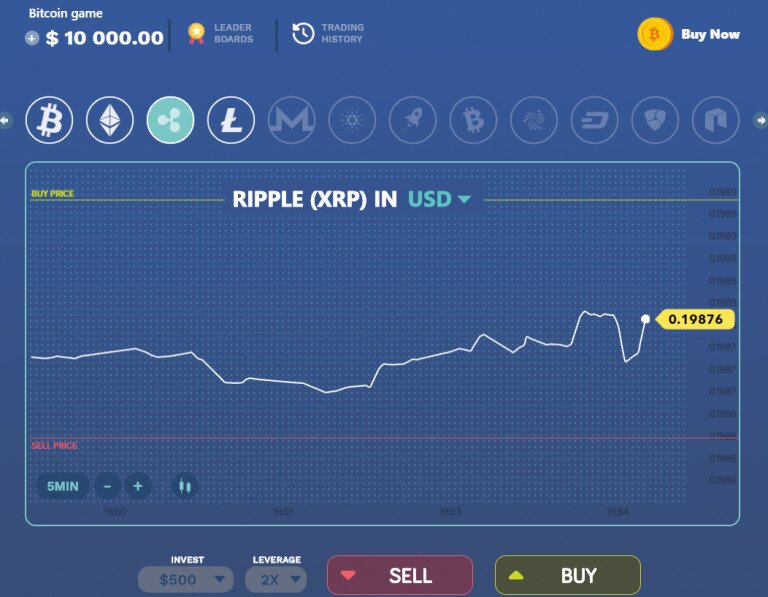 Mobile Games
Due to the simple design of the site, the site is mobile optimized for all platforms. You can use it on any modern web browser. However, Google Chrome and Safari will work best.
Customer Support
This site could be significantly improved if it offered some form of support. There's no FAQ section, no live chat, and the Contact Us link does not work. Fortunately, the site is relatively simple to figure out, so most people get the hang of things after a few minutes. However, some form of support would make for improved user experience.
Conclusion
Bitcoin Flip is similar to day trading stocks. You jump in and try and pick a time to get out. Buy low and sell high is the key to "winning" in any form of investing. Luckily, with Bitcoin Flip, you can play the market without the market playing you.
Frequently Asked Questions
Nope. You also can't deposit with Bitcoin. Deposits are not accepted at all. It's a simulator.
Yes! The site is available on any modern web browser.
What part of simulator did you not understand? Yes, you can play for free.
Yes! Note that you will be limited in the number of currencies you can trade if you do not register for an account.
Absolutely. Since the game does not allow for real money transactions, there's no reason to block players.
Of course! It's a simulator, so there's no risk.