BTC Pokerstars Overview
BTC Pokerstars is a new Bitcoin poker site online that gives much focus on security and gaming experience. A quick look at its website already boosts its credibility, which is clearly an advantage because more players will be encouraged to make this gambling site their primary online poker room.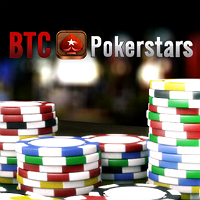 The website's ability to initiate various poker games directly in the web browser truly seals the deal. With this setup, you will not have to download any software client just to be able to enjoy this popular card game.
You are completely wrong, however, if you think that the poker games available for instant play are those played individually. Here on Pokerstars Bitcoin site, real online poker rooms are available, which allow you and other poker enthusiasts from different parts of the world to play against each other in real time.
No Limit Hold'em and Pot Limit Omaha are some of the games available here. They offer varying stakes and require different buy-ins, so it is important to carefully choose which table best suits your style and bankroll. If ring games are not preferred, then the poker tournaments are the better option.
Going through each ring game and tournament is guaranteed to be hassle-free, and this can be credited to the user-friendly software used by the gambling site. Here, the members logged in can be viewed, together with the available tables for ring games and tournaments. You can even view information for each table or decide to observe a table.
While poker gaming is bordering on exceptional, the rakeback rewards are not too far off. In fact, this Bitcoin gambling site has lucrative offerings that will definitely benefit avid poker players online.
Upon sign up, you will initially be categorized under the Rookie level, which already entitles you to a 2% rakeback. By playing more raked games, you will have more chances of increasing your points and upgrading your level to higher ones, which can reward up to 25% rakeback. Aside from this, tournament rewards are also up for grabs, together with a referral program.
On top of the gameplay and promotions, BTC Pokerstars also highlights the security of its payment processes. Depositing bitcoins to the account requires users to generate a deposit address, where a minimum deposit of 0.001 BTC must be sent to. After one confirmation, the balance will be updated. Meanwhile, withdrawing funds requires the registered password in order to push through with the request.
This Bitcoin poker site may be new, but it certainly has the features that are offered by leading online poker rooms. However, the real success only begins as soon as more players log into the site, after which it will surely be positioned among the top poker sites using the Bitcoin technology. Check out BTC Pokerstars and see if it can truly give you the kind of Bitcoin poker gambling you desire.