Grid Poker Overview
'Bring your Poker game to the next level!' This is the ultimate promise of Grid Poker to its players who would want to try the marvels of the poker games they are offering. Currently in the beta testing programme, downloading and installing the poker client is necessary. Hence, it is a must to take a good look to the features it offers to know if it can really give a great Bitcoin poker experience.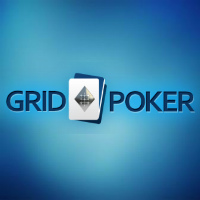 Grid Poker accepts several currencies as payment methods along with Bitcoin. However, among these modes of payment, Bitcoins can obviously offer the fastest and easiest way of transactions. More than that, English is the only language supported in this site. Also, freeroll tournaments are given 2-3 times per week with up to 15 tournaments per session. When it comes to poker games offered, you will certainly be amazed on the spectrum of selections they have provided.
This Bitcoin gambling site offers Texas Hold'em Poker, Omaha Poker, Chinese Poker, Chinese Open Face, and 7 Card Stud. Furthermore, several categories are also provided for more variety of poker games such as 'Split-Pot Games', Draw Games, and 'Other Games'. Under 'Split-Pot Games' are Omaha Hi-Lo, 7 Card Stud Hi-Lo, Badeucy, and Badacey. On the other hand, 'Draw Games' includes Five Card Draw, 2-7 Triple Draw, 2-7 Single Draw, and Badugi. Last but not the least is the 'Other Games' which contains Razz, Mixed Games, Dealers Choice, Omaha 5 Card, Omaha Hi-Lo 5 Card, Courchevel, as well as Courchevel Hi-Lo.
To start the poker game to the next level, it is a must to first download and install the software. After doing so, creating an account is the next step. You have to provide a User ID, Password, Country, and Email Address. And before you can accomplish this step, you must first confirm that you are at least 18 years of age. When you are done with this, you are then ready not to play but fund your account.
To deposit bitcoins at Grid Poker, you have to first copy the wallet address to the clip board. A complete step on how to process this at the Bitstamp website is provided in this brand. Typically, it takes less than 10 minutes for the bitcoin you have deposited to appear in your account. Take note that each bitcoin you deposited will be automatically converted into bitcoin chips. 1 BTC is equivalent to 10,000 b.
Grid Poker's game platform and lobby are also excellent. All of the features found in other bitcoin poker sites are found plus the fact that they have provided real attractive highlights that will sure invite you to sit in their tables to play any of the poker games they offer. More than that, they provided a 'Forum' page where you can find answers to your questions about the site through recent forums. If you haven't found it, there is no problem as you can easily contact them via email.
Truly, Grid Poker can be considered a good bitcoin poker site. Just seeing the variety of bitcoin poker games it offers, up to its cool features and incredibly spectacular highlights with convenience, you will certainly have the best bitcoin gaming experience. Want to have a taste of poker game to the next level. Learn more about Grid Poker here.