Roshpit Overview
Another layer of entertainment is offered for eSports enthusiasts out there. If you think that Bitcoins and Dota2 would sound nice, better hurry to try your skill and luck with Roshpit. This bitcoin betting site is the 'world's first eSports bitcoin gambling exclusively for DOTA2.' Hence, expect a refreshing way to enjoy your favorite eSports event while getting chances of earning more bitcoins.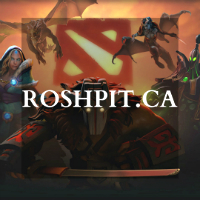 Roshpit accepts bitcoin as the main mode of payment in their gaming platform while English is the only language being supported. In addition, though there are several eSports matches online, this site offers the most popular and widely played game, DOTA2. The main reason for this is the game's fast-paced nature which has been coupled by its intensity making it a superbly entertaining spectator sport.
To get started with Roshpit, first thing you have to do is make an account. Since this platform is bitcoin-powered, full anonymity is assured as the details required are limited to only the username, email, and password. After this, next thing to get done is fund your account by buying 'Gold' (credits). This can be accomplished by sending amount of bitcoins to the bitcoin wallet address provided or just scan the QR code. Take note that 0.01 BTC is equivalent to 500 Gold. Wait until the confirmation is received and you are ready to face the most exciting battle in your gaming life.
In terms of payouts, all the players who betted on the winning team will all earn a portion from the loser's pot since all wagers on the losing team will be 100% lost. Roshpit takes an average of 2% from the pool to develop their site and wistfully sponsor tournaments in the future. In a nutshell, if you win, your original winning bet is returned in addition to the proportion you will get from the loser's pool.
Transparency is another thing that this gaming site boasts of since all the previous games and deals are presented publicly. You can sure view these together with full details on the match, competing teams, match time, and the results.  On the other hand, this bitcoin betting site's gaming platform is sure excellent. All the details are presented neatly together with straight-forward buttons and crisp graphics. Therefore, you will never have a hard time betting and predicting the outcome of your preferred matches.
Though new in the bitcoin betting industry, Roshpit can be considered another brilliant bitcoin platform to add spice in your gaming life. The aforementioned features are just some of the highlights that they offer; hence, if you just love the excitement of speculating DOTA2 matches' outcome, better grab this chance and discover what this site has to offer. Simply know more about this bitcoin gaming portal.