SatoshiRaffle Overview
SatoshiRaffle introduces an innovative Bitcoin lottery game that guarantees higher jackpots and exciting prizes to the Bitcoin gambling industry.
SatoshiRaffle is a Bitcoin lottery platform that functions like how a typical lottery game does. Although stripped of extra gimmicks, this brand still manages to provide a gambling experience that is worth a shot. After all, there are not many websites offering a straightforward online lottery game in the Bitcoin gambling market.
Believed to have been conceptualized by its founder during his trip to the Sayulita beach in Mexico, this gambling site supports two languages: English and Spanish. Though, through its years in the market, it added an additional language—Japanese—which hints its growing influence in the Asian market.
SatoshiRaffle Pros & Cons
Pros
Multilingual platform
High raffle stakes
2% house edge
Instant play
Cons
Website can still be improved
Needs more support options
Long waiting time for another raffle round
No other altcoins accepted
SatoshiRaffle Bitcoin Games
As its name suggest, lottery is the only game available here in SatoshiRaffle. However, what is absolutely remarkable about this platform is that it is extremely easy to use.
To join a raffle, you just have to purchase a wallet that is worth 0.01 BTC. All the purchased tickets are drawn twice a month with a 15-day interval. Two raffle draws may be too few for some, but this is an effective way to ensure that each draw will have a significant amount in the raffle pot since this will be shared among three winners.
The first-place winner will earn 60% of the prize at stake while the remaining pot will be divided among the 2nd-place winner, the 3rd-place winner, and the house. Since 20% and 18% of the pot are allotted for the two winners, respectively, it appears that SatoshiRaffle has a house edge of 2%.
Concerned bettors, on the other hand, will be pleased to learn that the winners for each raffle will be available on the site and will receive their payouts through the Bitcoin wallet address initially used for the deposits. Other than the winners, this page also shows the qualified participants and the option to validate the authenticity of the draw.
Software Features & Graphics
SatoshiRaffle is powered by an independent proprietary provider. Aesthetic-wise, its website dons a simple and informative website where everything is laid into place. Bitcoin gamblers, even newcomers, will not have difficulties familiarizing themselves with this lottery game. There is even an instructional video for a more vivid explanation. However, entertainment-wise, there is nothing much this platform can offer since almost the whole website is covered with texts.
Account
This site does not require any form of account registration—manual or automatic—so expect to instantly join in a raffle without any hassle. After all, this platform is Bitcoin-powered; therefore, anonymity is strongly practiced here.
SatoshiRaffle Imagery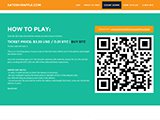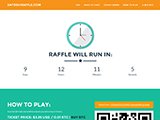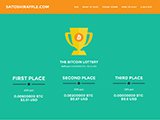 Since registration is not required, there is no need to fund an account. To deposit, or in SatoshiRaffle terms, purchase a ticket, you just have to send your payment to the address displayed on the homepage. You can also scan the QR code for a faster transaction. However, it is of prime importance to ensure that your deposits are exact.
This means that if you plan on buying only one ticket, the amount transferred should be 0.01 BTC. Unfortunately, deposits less than the ticket price will be skipped by the system. In short, your payment will be accepted, but you will be disqualified from the scheduled raffle.
Support
For suggestions, queries, and questions, you can get to SatoshiRaffle's customer support department by sending an email or through the notifying them via Twitter.
contact@satoshiraffle.com