YABTCL Overview
YABTCL is simple Bitcoin lottery site at first glance, but it is packed with lucrative and unique features that bring lottery games up a notch.
YABTCL may seem like an out-of-this-world name, but it is actually an attempt to give bettors a lasting recall and something to think about. Short for 'Yet Another Bitcoin Lottery', this betting site claims to be more than the ordinary Bitcoin-powered lottery system.
YABTCL made its way in the Bitcoin gambling industry in 2014. Since then, it has been delivering unique and enthralling lottery games to Bitcoin gamblers that certainly pack endless winning opportunities.
YABTCL Pros & Cons
Pros
Exclusive lottery game
Informative website
Fast fund transfers
Instant play
Cons
No other altcoins accepted
Website can still be improved
Needs more games
Needs registration
YABTCL's Lottery Games
Its provably fair lottery system is certainly one of the most outstanding features. It ensures reliability by using a simple yet effective process that begins one and a half hour before every draw.
All the participating tickets are collated in a SHA256 file hash, time-stamped, checked, and used to generate the winning numbers, which are only published once the chosen block has had six confirmations.
YABTCL's lottery draws, on the other hand, happens every Tuesdays, Thursdays and Saturdays at midnight UTC. It should be noted, though, that every draw yields six distinct numbers from a total of 67 numbers.
Like how normal lottery games work, you are automatically entitled to win the jackpot once your ticket has hit all the drawn numbers. In the event that only a few numbers on your ticket came up, you are still qualified to win payouts, provided that your ticket hits at least two of the six drawn numbers.
Software Features & Graphics
YABTCL is powered by a proprietary software platform. Aesthetically speaking, its website has not that much to offer. However, in terms of user-friendliness, YABTCL ranks over the top.
Here, you will be given precise information on how to start a game, the notes you ought to keep in mind, and other vital details that will you progress in Bitcoin lottery. Also, you will be provided with real-time updates of the previous and current draws. If you rather lack information in lottery, YABTCL will let you feel as if you are an expert with its effective platform.
Account
This Bitcoin lottery site encourages users to sign up for an account, which only asks for the Bitcoin wallet address, a password, and an optional login name. Fortunately, playing without an account is also allowed here and can be done by sending funds to the posted addresses for each ticket.
YABTCL Imagery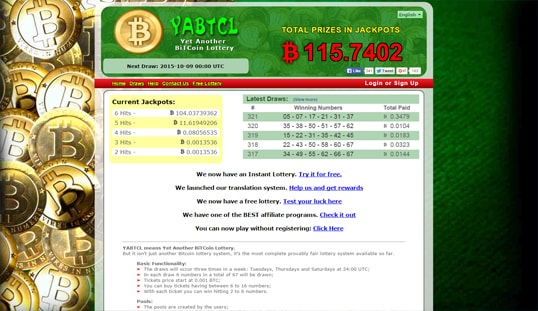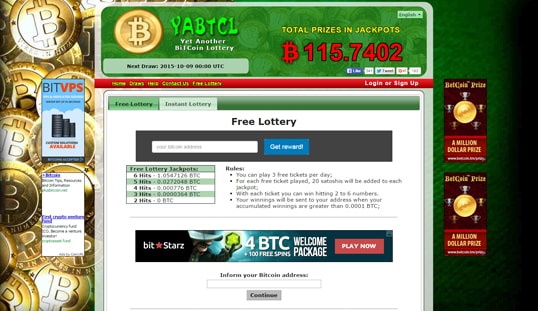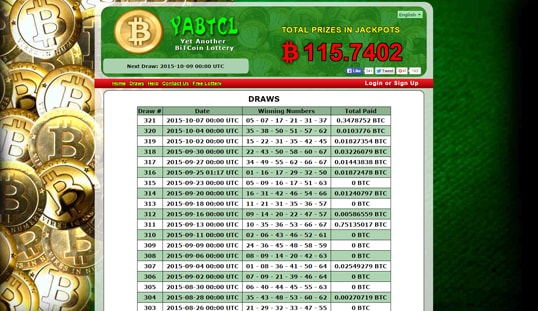 Withdrawal & Deposits
You can also expect simple fund management with YABTCL. After all, it adheres to Bitcoin's simple and instant transaction features. Depositing funds or buying tickets for non-registered members require two confirmations. Withdrawing funds, on the other hand, should meet the minimum amount of 0.0000543 BTC.
Support
For queries, issues, and suggestions, YABTCL's customer support department can be contacted via email. Sadly, this site does not have live chat support, which would have improved the overall gambling experience here.
Helpful Links