Crypto-Games.net Overview
Crypto-Games.net introduces its revolutionary platform that grants an opportunity for altcoin bettors to enjoy exclusive Bitcoin games.
Playing with several cryptocurrencies prove to be a hit in online gambling; that is why having casinos like Crypto-Games.net make this activity even more convenient and attractive.
Crypto-Games.net debuted in 2014 as an online gambling website dedicated to online slots powered by Dogecoin, one of the more popular altcoins in the market. The demand for it and for adding Bitcoin to the game, however, pushed the team of operators to include other cryptocurrencies and improve the website by adding more games. Today, this site support several coins and has expanded its game library.
Crypto-Games.net Pros & Cons
Pros
Multiple cryptocurrencies accepted
US players accepted
Smooth web interface
Provably fair games
Cons
No toll free number
Country restrictions
Crypto-Games.net Bitcoin Games
This casino initially rolled out with only one casino game, which is a slot game. It carried over the game that was used on its original website. For the casino to grow, adding more games is essential. Thus, the dice game was included in its library in second half of 2014. With the Bitcoin dice and slot games on board, Crypto-Games.io further expanded its offerings by adding a blackjack game, giving more variety. In October 2015, lottery joined the ranks. Roulette, 5th game, was added in July 2016. These games have low house edges and don a retro feel that makes the website distinct from most of the Bitcoin casinos in the market. Provably fair technology is implemented accordingly and reviewed by some high trusted members of bitcointalk community.
Software Features & Graphics
Crypto-Games.net displays a rather simple website design that has no advertisements attributed to it. Although this may seem as a hiccup in the aesthetic perspective, this website layout helped bettors to experience fluid and instant gameplays and site navigation. This website also integrated a chat feature on each of its games, which can serve as a socialization conduit for bettors from all around the world. The entire site is built on proprietary software, and this is responsible for making the games and the interface unlike any other.
Website is offering investments into the house bankroll and share 80% of profits with investors. Currently, it's possible to invest in eight different coins. Players can use Crypto-Games.net as an exchange which is built in the website. Coins can be exchanged from one to another instantly, without buy/sell orders and waiting.
Moreover, for more advanced dice bettors, API is available for building their own betting bot.
Account
There is absolutely no need to sign up for an account since the system's protocol of creating unique IDs that write into cookies for new players is employed. However, these stored cookies only last for 14 days. Therefore, it is highly recommended to take note of this unique ID. Bettors can do this by simply saving it in a document on their computer or mobile device. With this setup, the security is low. Hence, there is an option to secure the account with an email address and a password. For more advanced security, account can be secured with google two factoer authenticator.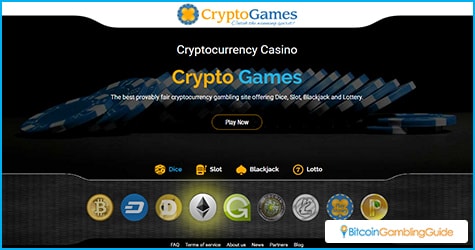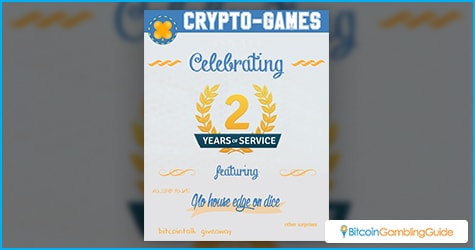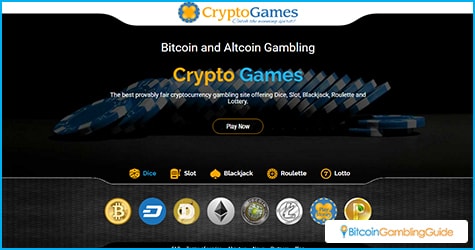 Having been operating under the cryptocurrency circle of transaction, it is certain that bettors are to experience instant and secure fund management. Here on Crypto-Games.net, deposits only take one confirmation and two confirmations for withdrawals. Deposits must be at least 0.0001 BTC while cashouts require a minimum amount of 0.001 BTC.
Bonuses & Promotions
Players can claim faucet on site for every coin Crypto-Games.net offers. For bitcoin that is minimum of 0.00001 BTC and up to 0.000205 BTC. Faucet amount depends of players level and increases when placing a bet, investing, referring friends, chatting, and through loyalty (days active). Higher levels yield a larger faucet amount.
On the first day of every month it starts a wagering contest and ends on last day of the month. The three users who wager the most on all games every month receives the following rewards:
First place – 0.35 BTC
Second place – 0.15 BTC
Third place – 0.075 BTC
Crypto-Games.net is having other promotions, like 0% house edge on dice, where players and house has equal chances of winning and losing. There are promotions on bitcointalk.org where users can claim 0.00005 BTC every day and receive free lottery ticket once per week.
Mobile Games
Games are mobile friendly and can be played directly in browser. Website has responsive design and no software is needed to be downloaded or installed.
Support
Crypto-Games.net assures its clients that they are the casino's top priority. Therefore, for instances wherein bettors are experiencing difficulties and confusion, they can always seek the aid of the casino's customer service department by sending them an email with the concern attached to it. This department is open 24/7 and is guaranteed to clarify these concerns as soon as possible. Likewise, players may also reach the Crypto-Games.net admins or moderators via the live chat box.