PrimeDice Overview
With its huge customer base, great dice game, and dedication to improve, Primedice remains a strong contender for the best Bitcoin dice title.
Dice, gravity, and bitcoins are the main things where the bitcoin gambling site PrimeDice starts and ends. Upon entering their domain, a foreshadowing of walking in the clouds when you roll their dice and win bitcoins is sure to welcome you.
On May 2013, a new game that will set the bar high for dice games was released. Primedice, currently one of the top dice games for Bitcoin gamblers continues to offer outstanding services.
PrimeDice Pros & Cons
Pros
Provably fair
Automatic betting
Bitcoin faucet
Constantly updated
Cons
Incomplete mobile functions
No first deposit bonus
Need minimum bet to participate in group chat
English-only website
PrimeDice Bitcoin Games
The dice game here does not by all means introduce something innovative. In fact, it bears the common structure of a Bitcoin dice. What sets it apart, though, is the security it provides the players. The game itself is provably fair, and it comes with the automatic betting feature, which is greatly appreciated by the hardcore dice bettors. The interface is absolutely simple and friendly, and there should not be any reason a novice player will have tough time rolling the dice.
Software Features & Graphics
Using software and technology that continuously being mimicked by other dice sites, Primedice completely made the familiar online dice script or solution truly a standout. Integrated into the system are a chat box, updated statistics, and other features that make the overall betting experience worth it.
When it comes to aesthetics, on another hand, nothing negative can be said about the site. In fact, the theme even changes, depending on the user's tastes. However, players must get used to the pastel color used for the entire site.
Account
Every user will instantly have an account upon visiting PrimeDice, but this setup is prone to risks. Losing funds and access to the account are two main problems users may encounter; that is why setting a password is highly advised. Registering an email address may not be mandatory, but this is recommended for password recovery. The site vows to not send any sort of o promotional messages to the inbox.
PrimeDice Imagery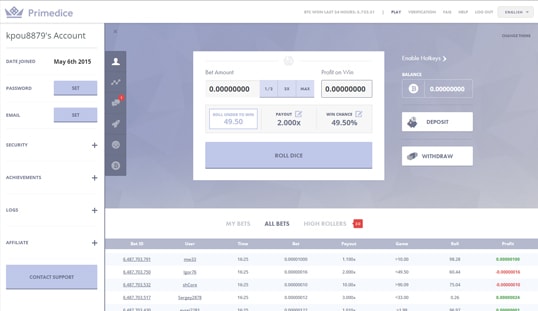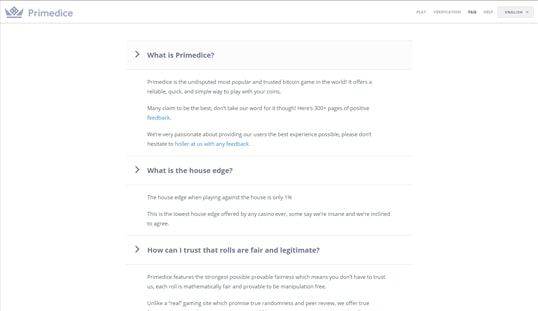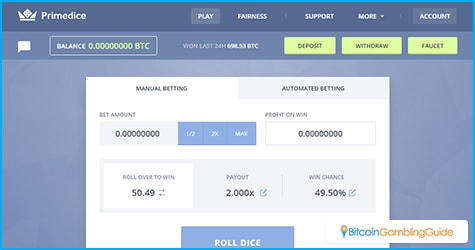 Any amount can be deposited to the account. However, bettors cannot play right away because the deposited amount must first reach one confirmation before the fund gets credited. All deposits must undergo this requirement, and only when there are no unconfirmed deposits can the players withdraw their Bitcoin. Also, a total of 0.0001 BTC transaction fee will be deducted from the cashout.
Bonuses & Promotions
Even though first deposit bonuses are highly expected of online casinos nowadays, Primedice does not offer one. But it makes up for that through the built-in Bitcoin faucet. That already is a bonus in itself. Levelling up boosts the faucet rewards and overall status on the site.
Mobile Games
Primedice will not leave mobile users hanging. A mobile website that supports Apple, Android, or other mobile devices is available to access any time of the day. In spite of the fact that it lacks features the desktop version offers, it is still a breath of fresh air for players, knowing that this Bitcoin game has no platform limits. It would still be better if there will be more functions on the mobile platform.
Support
Besides the contact support through e-mail, a live chat is readily available and a friendly community is at your disposal for any questions or inquiries that concerns the players. Live support is the preferred option, but email support can still be useful, especially for more serious cases.