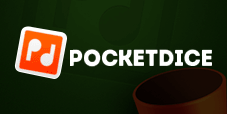 Pocket Dice is a top Bitcoin casino software dice game for all kinds of players. This is thanks to the colorful and simple look of the game. Most dice games usually focus on giving a streamlined experience. Pocket Dice, on the other hand, focuses on giving a clear and easy way to play dice.
Accessible for beginners and experienced players
Many Bitcoin dice sites simply follow the rule of an adjustable probability where you directly enter the odds or the payout for each roll. The adjustable probability is a convenient way of setting the bets. However, these dice sites may not be user-friendly for anyone who may not know how Bitcoin dice works.
Pocket Dice, on the other hand, can show players how to play the dice game. This is thanks to the layout of the game. The option to set the bets is at the top of the dice cup that will capture most players' attention. The game has a player determine if the dice roll will go over or under the number that he selects.
The payout rate of the bets can show you how much you can win in a roll. If you are looking for a certain payout rate, you can click on the number to bring up the pay table. The table will show you a list of all the bets you can make in the game. You can even select the one you want to roll with on the table.
Pocket Dice is also for long-time players, thanks to its autoplay feature. Apart from setting the bet and the number of rolls to automatically make, the feature can increase the amount to bet when it loses or wins. This is very useful for players who are using a betting system like the Parole and Martingale. A betting system is where you can take full benefits of a winning or losing situation.
Better player experience
There are many Bitcoin casinos powered by SoftSwiss like BitStarz that have Pocket Dice on its website. This is due to the value that the game can provide to a casino's player. The dice game has a 'free-to-play' mode where the players can use fun currency to try it out.
Another important benefit of the game is its mobility. The dice game works well on any smartphone or tablet. This makes the game beneficial for you if you are looking to target the mobile device market with your casino.