In-Depth Review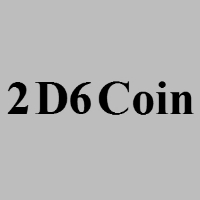 Bet against the roll of 2 D6 dice with 2d6Coin! Currently it is still in testing mode, but most certainly, it is an online gambling site that utilizes bitcoins in all of its future transactions; hence, the only payment method accepted here is the latter. Knowing how to get bitcoins is important. And in terms of language, English is the only one supported. Furthermore, this Bitcoin online gambling brand claimed to be fair as they have provided the necessary details for you to verify the game results.
Being the only bitcoin game offered at 2d6Coin, 2 D6 dice provides the bitcoin players thrill and winnings by just knowing its rules fully well. There are number combinations of dice given from 2 up to 12. If the odds are in your favor and one of your picks matched the result of the roll, you will certainly win, and according to the site, it will be 'based on the odds of getting your numbers.'
When it comes to game platform provided, 2d6Coin has an average one. Upon entering their domain, it is actually the first thing that will welcome you. There are twelve neon green boxes, eleven of these contain the combination of dice you must aim for from 2 to 12 and the last box enables you to clear the bets you have placed. Even though the color used is bright and bit overpowering to the eye, it actually helped to make the site appear lively as aside from this, everything you can see is white.
You can get started with 2d6Coin, without any registration required. However, this may still vary as in the looks of the site; it is still under construction and is in the testing mode. But then, you can instantly place your bet and play the game as they give free amount of 100 BTC in your balance. You can play all you want as long as you made sure that you will not run out of bitcoins in your balance.
In terms of deposits and withdrawals, no details or information are given since based on the site, it has been disabled due to the fact that it is still in Beta or testing mode. So, most probably, it is a must to seize the opportunity of playing its dice game for free and gain strategy. Hence, if they have finally opened for real bitcoin battles, you are more than ready to emerge as the winner.
2d6Coin currently provides transparency through the pay-out table they have provided. With this, you can view the results of the previous games plus the details about the Dice Roll and the winning numbers which you can use as a reference to your games.
Though still in the testing mode, 2d6Coin foreshadows a good future in the domain of Bitcoin gambling. Aside from it offers one incredible dice game, it also provides great opportunity for players to witness the marvels of their games all they want. Excited to test the 2 D6 dice of this bitcoin betting brand? Read here to know more details about 2d6Coin.
Related News
Learn about their latest developments, announcements, and new products in the related news articles below.