In-Depth Review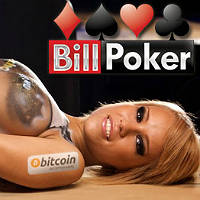 Poker has always been a popular card game in land-based and online casinos; thus, it is about time for the world of Bitcoin online gambling to have a betting site that is dedicated to Bitcoin poker. BillPoker, a Bitcoin-powered start-up online poker provider, has finally entered the gambling scene and is set to give avid poker players endless reasons to have absolute fun in every round of poker that is filled with numerous chances to win tons of bitcoins.
Before poker aficionados begin to dream of scoring buckets full of bitcoins, though, the first thing they must do is to download the poker client of this gambling site. BillPoker has chosen to require a download so that players are guaranteed to experience seamless betting all throughout. Once the software has been installed, the next few steps needed to be completed involve creating an account and guaranteeing that the players' Bitcoin wallets have enough bitcoins.
When it comes to the betting interface of the poker software, this Bitcoin gambling site has ensured that its players will have an easy time navigating through it. After all, this betting site takes pride in its user-friendly poker software that serves as the gateway to access poker rooms. Through it, fans of poker can begin playing against other bettors coming from all over the world. What is even better is the fact that US players are also accepted in this Bitcoin poker site.
With the software, all Bitcoin poker players need is to ensure that they have enough mastery of the Bitcoin poker strategies and skills to increase their potential to beat other players and eventually emerge as the victor. By learning how to turn a bad hand into winning poker hands, Bitcoin bettors will definitely be a step closer to scoring loads of bitcoins as their payouts.
To further have a blast in playing poker with bitcoins, BillPoker has come up with its special and exclusive offers. For an action-packed style of betting, the Frequent Freeroll promotion will surely be a hit because a new freeroll tournament starts in every five minutes. Also, a first deposit bonus of up to 1 BTC is up for grabs. Likewise, players who refer their friends can expect 10% of the rake generated by the referrals or be lucky enough to catch 1 BTC as a reward. For a more profitable and jaw-dropping promotion, wait for its No Rake Days promotions and get a chance to enjoy playing poker without having to pay any fees.
With so much fun at stake, there is no reason poker players should miss this Bitcoin gambling site. After all, it provides an anonymous betting that also maintains reliable fund transfer methods without required transaction fees. Therefore, to enjoy top-quality Bitcoin poker gambling that is filled with excellent features, promotions, and services, begin playing with BillPoker.
Related News
Learn about their latest developments, announcements, and new products in the related news articles below.