In-Depth Review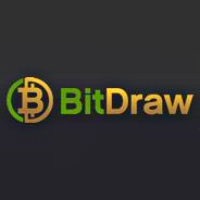 BitDraw is an online gambling site empowered by bitcoins. More than that, it is also labeled as "the premier Bitcoin Raffle and Lottery gaming site." Yes, this bitcoin gambling site offers two great bitcoin games, Bitcoin Raffle and Bitcoin Lottery.
In their Bitcoin lottery you have six choices to choose from. First is the Fruits Basket which is a lottery game drawn daily and requires only one pick from varieties of fruits. Next is Pick 4 which is a four-digit lottery game, Pick 4 for High Roller, Pick 3, and BitDraw Lotto which is their official lottery game. On the other hand, their Bitcoin Raffles provides seven categories for you to choose from. What is interesting about this game is each category corresponds to a certain day it can be played. It starts with the Monday Madness, Two's Day, Winner's Wednesday, Thursday-o-rama, Friday Funday, Saturday Night Jive, and ends with Sunny Sunday.
Since BitDraw is empowered by bitcoins, the only payment method accepted here is the latter. Also, the only language offered in this Bitcoin gambling site is English.
First thing you must do to get started in BitDraw is register. You have to fill-out a form with your username, email, password, and bitcoin withdrawal address. Take note that they have restrictions for the password wherein it must have 12 letters, and 1 of each – a number, a symbol, an upper case and a lower case letter. A link will be sent to your email to activate your account. You have to click the link and sign in. After that, you are good to go and ready to play and win!
To deposit bitcoins, you just have to send it to the wallet address they will be providing. Your bitcoins will be converted to tokens that you will use in all the transactions inside the site. The exchange rate of bitcoins to tokens is 1 BTC = 1000 TKN. There are two main reasons why they used tokens. First is the reason that this site employs an offline wallet; hence, there is no direct use of BTC in the site. And the second one is that it is more user-friendly to understand 1 TKN, 5 TKN, than 0.0000234 BTC or 0.001 BTC. To know more about betting with bitcoins, click here.
BitDraw also assure that they are provably fair which helped to make sure that the winners are chosen randomly. They used external random data combined with transparent rules. You can see the complete method and step by step procedure in their site.
In terms of lottery and raffles with bitcoins, BitDraw is one of the best places to go. It offers varieties of these bitcoin games you would surely love, plus the fact that it offers easy way to get started and it is provably fair.
Related News
Learn about their latest developments, announcements, and new products in the related news articles below.