In-Depth Review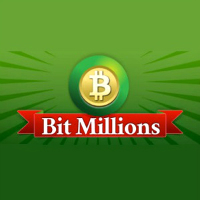 "Fully automated and cheat proof lottery system" – this is what Bit Millions claims to offer. And to invite more players, they also assured to be fair as the "numbers are calculated through a complex but extremely secure process".
This bitcoin gambling site only offers one game and that is bitcoin lottery based on the Bitcoin Blockchain and a ticket amounts only 0.01 BTC. The main goal for this bitcoin game is to pick four numbers from 00-99, the orders do not matter, if the result of the draw matched the four numbers you chose, congratulations! You are a sure winner.
Bit Millions, being a Bitcoin lottery site, accepts only one payment method and that is bitcoin. Moreover, it offers 13 languages such as English, Spanish, Chinese, Japanese, Portuguese, German, French, Russian, South Korean, Dutch, Swedish, Italian, and Polish.
If you are a bitcoin player who loves discounts, this is the bitcoin lottery site for you. This site offers volume discounts for transactions, in simple terms volume discounts for quantity, and as they call it, High Rollers. 1.00 BTC is the minimum High Roller bet and if you play with this amount you will be getting 1 free bonus play every 10 plays; hence, instead of having just 100 plays, you will receive 110 plays. On the other hand, if you play 10 BTC, you will have 1 free bonus play every 3 plays.
Starting in Bit Millions is fast and easy. Number one thing you have to do is send any amount as long as it is in multiples of 0.01 BTC to the wallet address they have provided. Minimum bet is 0.01 BTC as it corresponds to 1 ticket. There is no game limit per transaction. However, you must take note that you have to use wallets that allow you to receive Bitcoins in the same address you sent them like Electrum, Armory, Bitcoin-Qt, MultiBit, Blockchain.info, as well as mobile wallets like BitcoinSpinner and Bitcoin Wallet. Shared wallets like Mt. Gox, BitPay, as well as Instawallet are not accepted here. After sending desired amounts of bitcoins, you can already start playing as well as winning. You can also know more about buying bitcoins by clicking here.
Bit Millions, in terms of graphics offers an average one. At their very homepage, all the things you need to know are presented in an organized way. The combination of white and green is not overpowering to eyes; hence, much easier to read and understand things. More than that, you will hear satisfying sounds of bitcoins rattling every time the jackpot increases.
In conclusion, Bit Millions is a good bitcoin lottery site. It provides a good lottery game, varieties of languages offered, discounts, as well as easy way to start playing and winning. For sure, you want try it out and win big. Read more about Bit Millions here.
Related News
Learn about their latest developments, announcements, and new products in the related news articles below.