In-Depth Review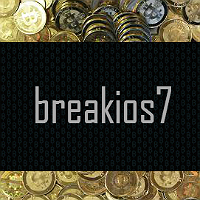 Bitcoin dice has absolutely taken the Bitcoin gambling world by storm with its quick, easy, and fun ways to play. With more bettors getting hooked to playing the popular dice game, the demand for it has significantly increased over time. This explains, therefore, the evident rise of Bitcoin dice sites like Breakios7 that aim to provide players from all over the world with seamless ways of enjoying and winning in every roll of the dice.
While most Bitcoin dice sites tend to be the same, Breakios7 has managed to make itself stand out by employing a much more convenient betting method as compared to most gambling sites offering the dice game. Be advised, though, that there is nothing striking in particular about this site's features; however, the secret lies with how each of these features complement each other to create a seamless and top-quality Bitcoin dice betting experience.
Gaming Interface
The interface of dice games are meant to be simple. With this dice site's interface, however, it is not only simple, but it is also user-friendly. After all, the betting section is conveniently positioned on the upper part of the homepage, giving bettors easy access to make a quick bet. Moreover, the list of values to bet on is horizontally arranged on the interface along with their winning odds and multipliers. Likewise, the unique bet addresses as well as the maximum bets for each value become available upon hover.
Easy Game Mechanics
Playing this Breakios7 dice game is downright easy because bettors simply have to wager on a value among 500, 1000, 2000, 4000, 8000, 16000, 32000, and 48000, which they believe will be higher than the outcome of their dice roll. In the event that the number generated after rolling the dice turns out to be lower than the value wagered on, then the bettor wins. However, to make things more interesting, each value has corresponding winning odds and multiplier. Logically, the higher the value, the lower the odds and multiplier are. Therefore, betting on smaller values yields more chances of winning bigger payouts.
Provably Fair Game
One of the advantages of engaging in Bitcoin gambling is the ability to prove the fairness of the games just like how bettors can verify the results of this dice game. In fact, having this feature makes it more reliable and safe to bet on and, therefore, more appealing to avid Bitcoin gambling enthusiasts. Players can verify the bet outcome on their own by simply using the code provided and the past secret published on its website.
Through these key features, Breakios7 is able to give Bitcoin bettors a new way to enjoy playing the dice game. Start rolling the dice in this Bitcoin dice site and hope that Lady Luck will favor your aim to score bigger profits in every roll.
Related News
Learn about their latest developments, announcements, and new products in the related news articles below.