In-Depth Review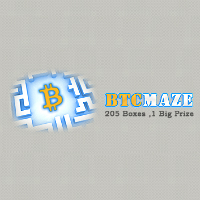 There are limitless ways available to have an exciting experience in Bitcoin betting. One of these is trying new and unique Bitcoin games that will suit your gaming cravings. BTCMaze is a Bitcoin gambling site that offers a 'Bitcoin maze game'. Just open the right box to find 1 BTC and other amazing rewards.
BTCMaze is definitely a new site in the Bitcoin gambling industry. However, it has already catered interests among players since it offers a refreshing way to enjoy and win more Bitcoins. There are three maze categories provided here, the Main Board, Mini Board, and the 50% Game.
The 'Main Board' game has 205 boxes and 7 prizes are hiding on each board. The bet amount is 0.0065 BTC and you can win as much as 1 BTC. On the other hand, 'Mini Board' game has 20 boxes and 1 BTC is hidden in one of the boxes. The bet required is 0.075 BTC. Last is the 50% game where only 2 boxes are provided in the board and one of those boxes contain 1 BTC. 0.501 BTC is the bet amount needed and among the games, this 50% game offers highest probability of winning.
Provably Fair Gaming is another good feature of BTCMaze. The secret hashes of the games are made available publicly allowing you to verify the integrity of the winning boxes. The process of verification is technical; however, steps are provided so you can get this done easily. This way, you can prove that your game results are fair and valid.
Registration is not at all needed for you to get started. All you have to do is click on the box that you think contains the hidden prize. A Bitcoin wallet address will be given so you have to send the required bet to the address shown. Once your wager is received, the box will open and reveal if you have won something or not. Payouts at BTCMaze are instant since it only needs one network confirmation to get processed.
BTCMaze's gaming platform is good. The interface is smooth and though the graphics are simple, it made the ambiance of the site appears to be less complicated and easy to understand. In addition, everything in this site is just one click away, which means you can choose your game, bet, and win in as fast as few minutes. Lastly, questions, concerns, or suggestions are answered via email so if in case you have any query, don't hesitate to let them know.
BTCMaze is not just another addition to the growing empire of Bitcoin betting sites, but another gaming platform to provide a great and thrilling way to win Bitcoins. Aside from the features mentioned, this site offers a lot more and these highlights are for you to discover. Know more about this Bitcoin gambling site here.
Related News
Learn about their latest developments, announcements, and new products in the related news articles below.