In-Depth Review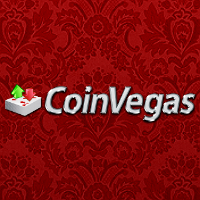 CoinVegas is another one of those Bitcoin casinos that do not exactly have any other games besides one. Regardless of this, however, its lone game provides ample amount of excitement, which is not half bad for its case.
Boasting a Hi-Lo card game, this website does not look like the typical platforms that run on the digital currency. Its design is simple, but it borders on dull and outdated, which does not help the brand look enticing at all. Fortunately, this is covered up by some of its features and services.
Perhaps one of the aspects in which CoinVegas has done a great job is through its acceptance of a number of cryptocurrencies. Aside from Bitcoin, which is the most popular and highly successful peer-to-peer currency, other cryptocoins like Litecoin, Peercoin, and Dogecoin are also supported. This way, it manages to broaden its market, and hopefully, attract more bettors who prefer playing in a casino that has less flair.
Another area that is favorable in this Bitcoin betting site is that its card game is provably fair. The SHA256 algorithm is disclosed before you can place bets. More, using another tool, one that you prefer, to double check the fairness of the game is allowed.
When it comes to the actual gambling experience, the Hi-Lo card game will be enough to keep you entertained. For how long, however, largely depends on your gambling preferences.  Since this is a basic Hi-Lo card game, all you need to do is to predict if the next card will be higher or lower than the previously shown card.
You can play with Bitcoin as many times as you want, as long as you still have the virtual currency—or any of the other altcoins—in your balance and if there are still cards left. Take note, however, that the multiplier for each card changes depending on the card rank. Likewise, there is no fixed house edge.
Like some of the new Bitcoin gambling sites at present, CoinVegas is designed to function without requiring players to sign up for an account. A possible problem with this setup, though, is that your account may be compromised or become inaccessible. Thus, it is imperative to never share your URL; instead, it is a must to save it to avoid losing access. This is also important if you plan to play using different web browsers.
On a different note, in case you are wondering if this gambling website offers bonuses, it does not. However, it offers an affiliate program, and it grants 0.25% of any winning bets of the bettors that play on the platform through the dedicated URL assigned to you.
While CoinVegas may seem like a Bitcoin casino that needs vast improvements in order to stay in the competition, it already provides decent gambling that can quench your thirst for a few bets here and there. Nevertheless, if you are the type who prioritizes the aesthetics, game variety, and bonuses, this website will certainly not be your cup of tea.
Related News
Learn about their latest developments, announcements, and new products in the related news articles below.