In-Depth Review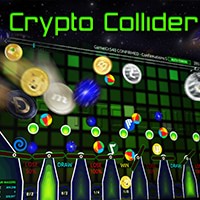 Numerous Bitcoin startups started revolutionizing the cryptocurrency gambling scene through introducing peculiar ways to bet using cryptocurrencies. One that really stood out is Crypto Collider—the newest Bitcoin-based gambling platform that takes gambling to the next level.
In fact, it is the perfect game for crypto users who value energizing entertainment while trading and hedging. This website possesses features that are definitely atypical to those of the conventional way of gambling and trading, thereby giving players something fresh to their senses.
Coins Accepted
One of the best features this website has is its ability to accommodate 14 cryptocurrencies to date. Of course, mainstream cryptocoins like Bitcoin, Litecoin, Dogecoin, and Reddcoin are accepted. Likewise, obscure currencies like Worldcoin, Nubits, Razorcoin, and Namecoin are recognized on the platform, and more are expected to join. Hence cryptocurrency gamblers are not limited to try their luck on this gaming platform.
On another note, this website has its own cryptocurrency called Collider Coin. This in-game currency holds several features like instant per-game cashouts and game advantages that could aid players win more prizes on this game platform. This coin can be purchased using in-game points that cost 100 points per coin. This coin can also be bought using Bitcoin for a price of 0.0045 BTC each.
Gameplay
The greatest feature of this website is its eccentric gameplay. Yes, this is cryptocurrency gambling—but in a whole new level. Compared to conventional gambling games that mostly rely on luck, Crypto Collider is a strategy game that is based on physics and logic.
The game's structure consists of eight holes and nine lever-like cover and its objective is similar to that of a pin ball game. The only difference is that players must shoot their coin to the winning hole.
The holes represent the possible outcomes of the game. If a player lands a bet on the 'Lose 100%' hole, it means their entire wager is contributed to the winning pot. If the player lands a bet on the 'Lose 50%' hole, half of that wager will be distributed to the winning pot.
On the other hand, players who land a bet on the 'draw' hole are given a chance to re-bet since this hole returns all wagers to the player. Finally, if a player hits the 'Win' hole, their wager is returned together with the current amount of the winning pot.
The game starts after 45 wagers are cashed in. Bettors will then position their desired bets on the game field. Players must be reminded that each coin has their respective 'weight' that affects the landing precision of their wager and it depends on how many bets were placed. This means that the larger the wager, the heavier the coin is, whereas smaller bets are lighter and are more predictable compared to their original entry trajectory.
As the game progresses, it enters two stages that amplify players' game experience: the overtime mode, where the covers are spun agitatedly and gravity ups by two times, and the sudden death mode, which increases game gravity by 10 times.
What is great about this game structure is it allows every player to win something regardless of the outcome of their bets since there are many opportunities and chances to change the flow of their games. Nevertheless, this type is certainly new in the Bitcoin gambling niche.
Deposits and Withdrawals
Despite having a fresh interface, Crypto Collider still kept the conventional deposit method intact.  As a matter of fact, this website even made it easier for non-tech savvy gamblers to deposit funds on their account with ease.
Players only need to select the 'account' tab that is seen on the homepage of the website. After selecting, they will be directed to their account information page that displays all accepted coins. All they have to do from there is select that coin they wish to reload and click on the address generator located under the coin information.
Withdrawals are also simple. Players must only be reminded that there are minimum withdrawals that depend on the coins of their choice. In addition, this website requires a minimal withdrawal fee. Regardless, transactions on this website are instant and easy despite being new on the market.
Special Bonuses
Crypto Collider is arguably one of the most generous online gambling websites to date. In spite of the short span of exposure in this niche, it still delivers clients with numerous chances to boost their gaming and trading experience.
Newly registered players are generously given free coins that serve as their 'free game' tickets for them to freely explore the platform without the risk of loss on their end. Moreover, avid website players whose rankings are beyond normal bettors are also given weekly rewards through the weekly top ten payouts.
Overall Verdict
Crypto Collider is indeed a game changer in the field of cryptocurrency gambling and trading. By striding away from the traditional casino-based gameplay and monotonous trading routine, this website will soon establish itself as one of the leaders in strategy Bitcoin games as it continues to deliver a strategic and thrilling way of betting and earning cryptocoins.
Cryptocurrency bettors wishing to give themselves a fresh taste of Bitcoin gambling will definitely enjoy playing in this online game platform. Strategize, analyze, and win only at the newest cryptocurrency craze to date—Crypto Collider!
Related News
Learn about their latest developments, announcements, and new products in the related news articles below.