In-Depth Review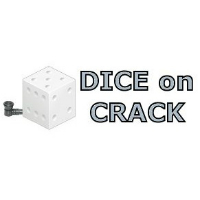 "All your friends are doing it" is Dice on Crack's famous line to invite as well as entice players to join and play in their site. And as what its name suggests, the only game available here is Bitcoin dice; however, in this very simple game, they provided tons of strategies for you to choose from. You can bet the Simple type wherein your deposit will be split into 0.001 BTC wagers and can be used to bet up to 15,000 times. They also offer famous strategies like Martingale, elagnitraM (reverse Martingale), Martingale BUSTO, Martingale EXIT, Minefield, as well as 3 Card Poker wherein instead of using dice, cards are used.
Dice on Crack's accepts three crypto-currencies as payment methods, Bitcoin, Litecoin, as well as
Terracoin. Getting bitcoins is easy, click here to read more about it. In terms of language, the only offered here is English.
To start the excitement in Dice on Crack's, all you need to do is decide on what kind of strategy you will be using. Then, you have to learn and understand your chosen strategy like the back of your hand as it has conditions as well rules. Take note that the minimum bet and deposit required is 0.001, all of the amounts below this will be refunded. Next thing to do is send amounts of bitcoins to the wallet address they will be providing. You must also make sure that you are using a compatible wallet as it will be the same wallet they will be sending your earnings in case you win. To know more about the bitcion wallet, please visit our Bitcoin wallet page.
Security and transparency are also emphasized in this Bitcoin gambling site. They provided a payout table where you can see and check all of the previous games. Good thing about this table is it provide everything like the strategy used, address, the bet size, the house fee which ranges from 0.50% to 2.10%, as well as the odds. Another feature showing clear transparency is the "past secrets" page wherein you can find the code for every game since this site started and verify these to prove validity and fairness. You do not need to worry as they have provided step by step procedures on how you are going to verify these codes.
Dice on Crack's graphics is not that great because of its plainness. It actually made the site appears dull. They could have added spectrum of use to make variations and to make the site livelier and inviting. Also, the information they have provided maybe a bit complicated and novice players may not immediately get all the terms and computations they need to know to increase their odds in winning. They also did not provide a customer support for client's questions and concerns.
All in all, Dice on Crack is an average Bitcoin online gambling site. Yes, it offers a cool dice game as it can be played with variety of strategies as well as clear proof of security and transparency. But then, it still needs to cover other aspects like customer support, information, and graphics.
Related News
Learn about their latest developments, announcements, and new products in the related news articles below.