In-Depth Review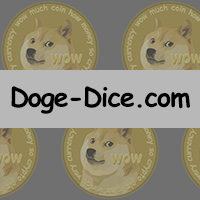 Doge-Dice is a Dogecoin-only dice betting platform. It is the sister website or the Dogecoin version of the popular Bitcoin dice website Just-Dice, and it features a 1% house edge, which has become more common in the midst of the budding competition in Dogecoin gambling.
It takes pride in having an interactive and simple interface, but it is rather difficult to ignore the quirkiness of the overall design of the website. From the background image used to the font face employed all throughout the page, it is evident that the operators or the designers behind it purposefully made an attempt at presenting the nature of the meme-based cryptocurrency.
When it comes to the dice game, it shares striking similarities with other Bitcoin gambling websites. Although the design may seem a lot different, which can look amateurish in ways, the essence of the Roll Hi-Roll Lo gameplay is highly familiar—one that is used by most dice websites.
Despite the common dice game, wagering on Doge-Dice still presents a favorable experience. The game is provably fair, and it works smoothly except for the slight delays in the dice rolls. This delay, however, is thoroughly explained by the operator in its FAQ sections, and is, in fact, an artificial delay to keep the game to function as quickly as possible despite the large numbers of bots used by some players.
Of course, when playing in any gambling site powered by cryptocurrencies, it is essential to give prime importance to its payment systems. In the case of this platform, it is a must to have patience to wait for both the deposits and withdrawals to be confirmed. Although they will only take a few minutes (cashing out may take 30 minutes to be processed with 1 DOGE transaction fee), expect that these payment transactions are not instantaneous as how they are in some Bitcoin gambling websites. Deposits may take up to 10 minutes before the new credits are reflected on the balance, even with the minimum amount of 0.01 DOGE.
On another note, Doge-Dice deserves a pat on the back for providing users a secure environment. Even though it initially enables automatic registration for everyone using a web browser, an option to set up a username and password is still made available. Moreover, the two-factor authentication feature can also be taken advantage to further guarantee security.
Meanwhile, when it comes to customer support, this website can be contacted through the email address it provides. However, should you feel that your concern warrants public interest or whatnot, feel free to head over to its official Bitcointalk thread.
Clearly, gambling dogecoins on Doge-Dice is worth the experience. This platform receives a favorable response from the online community, so this alone should already be a clear indication. After all, this gambling website is like the reflection of Just-Dice.
Related News
Learn about their latest developments, announcements, and new products in the related news articles below.