In-Depth Review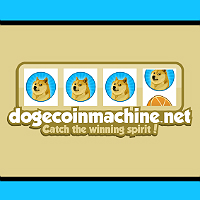 DogecoinMachine is a specialized betting site for online slot gambling. It was established in May 2014, and it joins the growing number of gambling sites that are primarily designed for the Shiba Inu-laden coin.
The main selling point of DogecoinMachine is its ability to give Dogecoin users the opportunity to enjoy playing slots online. This, however, is not the typical slot machine, because it has four reels and only one pay line. Therefore, catching the winning combinations may seem a little challenging, but the rewards for each line win is something to be happy about.
The highest-winning combination is composed of four Shiba Inu symbols and pays out 5,000 Dogecoins while the lowest combination, which is more common to appear, generates 30 Dogecoins on the lowest bid of 10 Dogecoins. With this game, though, you can bet up to 4,999 Dogecoins, which yield the highest reward of 2,499,500 Dogecoins.
Meanwhile, this gambling site is proud of its game's fairness and randomness. However, those who wish to be able to verify the slot's fairness must understand that the provably fair technology is not present here. Nevertheless, DogecoinMachine states that the algorithm it uses is absolutely fair while the random numbers are provided by random.org API, which offers true randomness.
Another great thing about this online slot machine is that it boasts a simple and user-friendly interface that provides everything you need to know. Also, the game is web-based, which means that it can be easily played in any web browser that supports Javascript, and that it does not require any download and installation.
Being able to instantly play the game in the browser is a neat feature, but this Dogecoin betting site further ensures convenience by not requiring you to register for an account. This means that none of your personal details will ever be needed, promoting anonymous betting. However, this setup requires you to take note of the unique ID provided. Once the cookies are deleted after 14 days, there will be no alternative method to access your account, even if it still has remaining funds.
When it comes to transferring funds, though, expect quick and hassle-free methods. In fact, all Dogecoin deposits will be credited to your balance in two minutes while withdrawals will only take six minutes before they get delivered to your wallet. More, there are no transaction fees because this gambling site already shoulders them.
Of course, DogecoinMachine has its own set of bonus deals like its referral program, which rewards 25% of the house edge for every invited person who makes a deposit, and its deposit bonuses of 20% and 100% for the fifth and 25th players, respectively.
Although it only accepts Dogecoin as of now, the gambling site is open to the possibility of integrating Bitcoin, Litecoin, and other altcoins.
Dogecoin Machine may seem just like another online slot machine, but this is already a step toward better Dogecoin gambling.
Related News
Learn about their latest developments, announcements, and new products in the related news articles below.