In-Depth Review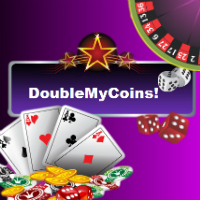 Just find where the Red Ace is and you will get the chance to double your bitcoins. At DoubleMyCoins, one of the newest additions to the growing empire of bitcoin betting sites, this all you need to get your bitcoins doubled or even tenfold higher in no time. Most certainly, anyone would find this offer enticing but it is important to also see the other highlights that this bitcoin platform has in store for you.
DoubleMyCoins offers a 'predicting game' wherein your main task is to find the Red Ace among the two cards facing down. If you select correctly, you wager will be doubled. Since this gaming platform exclusively accepts bitcoins as the primary mode of payment, you can assure of the advantages like complete anonymity, almost instant transactions, and other perks of convenience.
Unlike other bitcoin betting sites, signing up or making an account is not required at DoubleMyCoins. The moment you set your foot on their gaming platform, you can just play directly by sending an amount of 0.0006 up to 0.0367 BTC to the wallet address they have provided. If they have received your coins, the game will start automatically and you can start getting your bitcoins doubled in just a click of a button.
On the other hand, you can sure try this game in a 'Demo' mode. Just click the 'Demo' link and you will be given free credits to play the game and get yourself acquainted with it. By practicing first, every rule and detail about the game will be clearer. In playing, you have to keep essential things in mind like the percentage of bet of want to make, 10%, 50%, or 100% and others.
DoubleMyCoins is a 'Provably Fair' gaming platform. Like other brilliant Bitcoin gambling portals, you can sure verify the results of your games with them by checking out their 'Provably Fair' page. All of the details you need including the step by step process on how to verify the results by using the game hash, revealed message with position, and the secret key are all in the above-mentioned page.
When it comes to gaming platform, DoubleMyCoins' is simple yet great. Design-wise, it can sure captivate your gaming interests once you have tested the waters. In addition, the options are straight-forward and fast; hence, convenience while playing can be enjoyed at its fullest. If in case you have encountered problems or have questions with them, you can get in touch with them via email.
DoubleMyCoins is a good Bitcoin betting platform. Though it looks simple compared to other Bitcoin casinos or portals to offer more games and features, its simplicity brings out the best in it with highlights of convenience and fast way to double your bitcoins. Want to know more about this game? Read more about it here.
Related News
Learn about their latest developments, announcements, and new products in the related news articles below.