In-Depth Review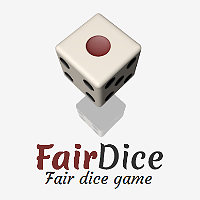 'Receive a Bonus!' This is the warm welcome of FairDice to anyone who will visit their domain. A bonus of 0.0002 BTC will be given for free and can be withdrawn as soon as the minimal withdrawal is met. More than that, this brand is a new bitcoin dice game with 'ultra-low house edge' which is only 0.8%. A chance of 49.60% to win is offered here; which is incredibly high compared to other Bitcoin gambling sites.
FairDice is considered to be a 'fair dice game'. It provides a 'provably fair verification' wherein you can run the given PHP code, replacing the client and server seed with your own. Through this, you will see and confirm that the results of your every game are fair and authentic. On the other hand, bitcoin is the primary mode of payment here as well as the only language supported is English. There are a lot of ways on how to get Bitcoins.
As what its name conveys, the only game offered here is the classic dice game played with bitcoins. After you wager is sent, you just have to click 'Roll' and your fortune to earn big will start to whirl. Your bet will be multiplied depending on the result of the dice. If you get 1 that will be 0x and 2 0.25x; to earn more, you aim for 3 (1.10x), 4 (1.20x), 5 (1.40x), and most certainly 6 that will double the amount of your bet.
To start the fortunate rolls in FairDice, it is a must to save your account first. You can copy it to a secure place or add this URL to bookmark. You have to make sure that you keep it secured and take a best care of it as if you lose it; your bitcoins will also be lost. After this, you can deposit money to your account. There is no minimum bet and deposit required yet the maximum wager is 1 BTC and will certainly increase soon. After two confirmations are received, you can now roll the dice to win nice!
Game platform and graphics offered by FairDice is good. Even though its realm looks plain, it conveys a simple and easy ambiance inviting the players that the process of winning is also the same. Furthermore, the dice you will be rolling is in 3D; hence, you will sure feel the thrill of anticipating what number will be on top the moment it falls and perfectly landed. In addition, information and details provided in this site is sure enough to guide novice players on how to play and win their dice game.
With its 'ultra-low house edge', great odds of winnings, welcome bonus offered, provably fair feature, anonymous and easy way to play, and good game platform, one thing is concluded: it is one of the best bitcoin gaming site in the domain of Bitcoin gambling. Want to roll its 3D dice? Know more about FairDice here.
Related News
Learn about their latest developments, announcements, and new products in the related news articles below.