In-Depth Review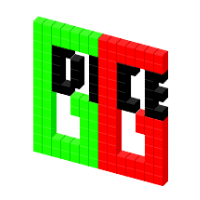 The warmest welcome of 1000 credits or 'Fake Coins' (FC) will be received the first time you enter the domain of GGDice. Not only this, you will sure be elated to know that by just seeing their site for the first time, an account has already been created for you! Furthermore, to start viewing as well as experiencing the highlights of this site, you just have to pick an 'initial nickname' and you are good to go!
GGDice offers a unique Bitcoin dice game wherein the classic dice cube is not needed. All you have to do is choose between two options, 'Strat HI' or 'Strat LO'. If you think that the result of the draw, as shown in the line graph provided, is higher than 50. 4999, you must bet on the 'Strat HI'. But if you think that the result will be will less than 49.5000, you must place your wager on the 'Strat LO'. On the other hand, GGDice accepts both Bitcoins and Litecoins as payment methods; however, when it comes to language, English is the only one being supported.
This bitcoin gambling site also offers 'Chat' feature. You certainly have the chance to communicate with other online players and get tips on how to get more odds in playing their dice game. Also, it is a great medium if you have concerns, comments, questions, or suggestions as most probably, you will get the answer from the admin almost instantly.
To get started with GGDice, since you already have an account, you just have to add some more details like email address, password, and others. This step is necessary to add more protection from your account and also to access it when you are using different computer or gadget. After this, since you are already given 'Fake Coins' or credits, you can definitely play their dice game and learn fully well how will you get more chances of winning here.
Moreover, if you are now ready to bet and of course win bitcoins, you can certainly fund your account by depositing Bitcoins (or Litecoins). To accomplish this, you just have to scan the QR code shown or send the amount of bitcoins to the wallet address provided. One confirmation is needed for you to see and use your deposit in your account.
In terms of game platform offered, GGDice has a simple one. The platform is a line graph where you can see the 'HI' and 'LO' of the data; hence, see easily the results of your game. It may appear about small and a bit confusing at first but when tried and played and it is sure easy to comprehend. It also appears dull as plain white backdrop is used. It can be more interesting if bright colors are added to entice and attract attention from players.
In totality, GGDice is an average Bitcoin gambling site. It offers the advantages for utilizing bitcoins, a cool and unique dice game, a 'Chat' feature, but some of its aspects still need attention. If you want a full thrilling experience of 'HI' and 'LO', know more about this Bitcoin online gambling brand here. Read about GGDice now.
Related News
Learn about their latest developments, announcements, and new products in the related news articles below.