In-Depth Review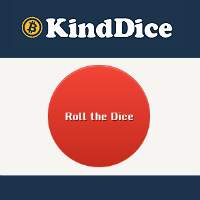 KindDice is a Bitcoin casino that offers a provably fair dice game. Although it may seem like the average dice games in the Bitcoin casino platform, it is actually packed with features that make it stand out in the world of Bitcoin gambling. In fact, these certain features address the shortcomings of some of the Bitcoin dice games, making this casino the better choice for avid dice bettors.
KindDice is very easy to play because it does not require players to understand complicated processes in order to bet. In truth, the mechanics is surprisingly simple that anyone who has a Bitcoin wallet and wants to have a great time playing and winning can conveniently wager on this dice game.
After all, players only need to choose a Roll Number from 1 to 64,000, decide on the values of Chance to Win and Prize Multiplier, place the bet of as low as 0.0001 BTC, and roll the dice for instant winnings. If the Lucky Number, the value after the dice is rolled, is lower than the Roll Number, then the bet wins.
In the event of a win, bettors should expect a low 1.9% house edge. However, winning big payouts in this dice game is highly possible. After all, players are in control of determining how much they are willing to risk in order to receive bigger winnings. Keep in mind that large roll numbers will boost the odds of winning but will decrease the potential prize. Therefore, it is imperative to prioritize either the amount to be won or the chances to win.
Besides the elementary mechanics, this Bitcoin dice game ensures that all bets are fair. As a matter of fact, the fairness is provable by accessing the revealed server key of previous games. Meanwhile, players can ensure that the system will not be able to manipulate the bet results by manually randomizing the secret keys. Through this, bettors are guaranteed of reliable betting that rewards handsome prizes.
Moreover, KindDice provides all players with quick and trouble-free deposits and withdrawals. With only one confirmation, deposits will be credited to the account balance in just a few minutes. More importantly, cash outs are processed instantly; therefore, bettors can expect their withdrawals to reflect in their Bitcoin wallet right away. These seamless transactions make convenient betting possible, which creates a friendlier and more attractive betting environment for all dice enthusiasts.
Aside from all these exceptional benefits offered by KindDice, Bitcoin bettors are also guaranteed of a fun and exciting experience that can reward them generously and frequently. In effect, the dice game in this Bitcoin casino has the qualities needed for a premium betting experience online. Play now and feel the thrill of rolling the dice in this Bitcoin casino!
Related News
Learn about their latest developments, announcements, and new products in the related news articles below.