In-Depth Review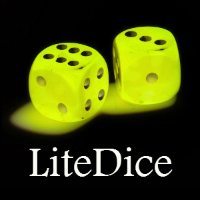 For sure you have tried playing a dice game with Bitcoins, but for a change why not try it with Litecoins? If you are enticed by this idea, there is no other betting platform to go but LiteDice. It offers a 'basic verifiable betting game using Litecoins' and other good features that can give possibilities of firing up your online gaming experience.
Litecoin is just similar to Bitcoin both being crypto-currency exchanged via peer-to-peer method. Though there are three differences between the two, these aspects are highly technical. Hence, you can assure that even though this site only accepts Litecoin as its main mode of payment, advantages like anonymity, instant transactions, low fees, and more are guaranteed.
How to Get Started at LiteDice
No registration or other steps is required. You can definitely get started playing the moment you enter their platform. All you have to do is send your bet to one of the wallet addresses they have listed. Each of these addresses corresponds to different dice games where the 'Chance', Payout, Win Percentage, and maximum bet vary. Take note that the minimum bet required is 0.20 LTC and amounts sent lower than this is considered a donation. After you have placed your bet, in no time, you will see the result of your wager in the 'Recent Bets' table. On the other hand, this site collects a return fee of 0.1 LTC that will be subtracted from your payouts.
Is LiteDice Fair? 
Like other 'blockchain-based betting game', you can assure of this site's fairness by having the result of your games verified. Once the 'secret' is no longer in use, this will be revealed publicly. 'Secret' pertains to the calculations used in the game and is being changed once a day. They offer a page where you can view the sha256 hashes of future secrets. More than that, a complete explanation of how this works and how it can be verified is given in their gaming platform.
Truth behind the LiteDice Scam
There are several posts online where you can see this Bitcoin gambling site being accused as a scam. However, most of these posts are proved to be untrue and are results of overlooking some details and not reading rules as well as instructions.
Compared to Bitcoin dice sites, this brand's platform is a bit simple. However, you can assure that it is straight-forward and convenient to use. In fact, you can definitely play the game and win even you are novice in their portal. On the other hand, you can let them know of your questions, comments, and concerns by dropping a personal message to the owner 'mskwik' in bitcointalk or litecointalk forums.
As a final say, LiteDice is a good way to enjoy an exceptional dice gaming experience with Litecoins. Though there are some aspects that needed improvement like the gaming platform, these are outshined by the advantages and convenience they provide. Know more of this LiteDice site here.
Related News
Learn about their latest developments, announcements, and new products in the related news articles below.