In-Depth Review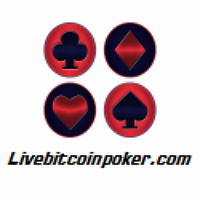 Complete anonymity and security are offered and emphasized in Live Bitcoin Poker. This site has been simply described as a brand that offers a safe and secure way to play anonymous online poker around the globe. It offers three varieties of poker: Texas Hold'em, Hi-Lo Omaha, and Omaha Poker. In line with that, their games are live and multiplayer with Limit, Pot Limit, and No Limit betting variation. In terms of language, English is the only language available. In terms of payment, bitcoins and litecoins are accepted in this brand. Other than that, no other payment method is accepted.
Live Bitcoin Poker also offers bonuses like BTC and LTC Free Rolls, 100% Bitcoin RakeBack Account Promotion, as well as deposit bonuses like if you deposit 20 LTC, you will get 1 BTC or if you deposit 3 BTC you are going to get 3 more BTC for free.
To open an account in Live Bitcoin Poker, you need to create your own poker account. Since this site offers complete anonymity, you only have to fill-in your player name, bonus/promo code, your password, as well as e-mail address. Your e-mail address is important as it will be used for your account recovery as well as bitcoin address. After that, you must choose your avatar or your representation in the card room in the virtual world. After reading the terms of use and policy, you can now submit the data and your account are absolutely created.  Read more about bitcoin betting by clicking here.
In terms of graphic design, Live Bitcoin Poker is not that good since it offers a typical and stiff one. By the time you have entered their site, you will be bombarded by information as well as graphics that can confuse any visitor. It is like a page that all of the contents are forced to fit in. However, in terms of font's size and style, they have used good ones as they can be clearly read. The combination of Black and Red may not be a good one since they are overpowering to the eyes.
One of the best points here is that they put in the center what their card room looks like; hence, the player can get a better grasp of how the games go. Another thing is the use of avatars; the player may think that he is playing in real world than a virtual one because there is the representative of him in the latter. Next is the information offered in their site is useful and relevant especially in their Rulebook as every aspect and details are presented fully and clearly.
Live Bitcoin Poker can be considered as a good bitcoin poker brand despite of its glitches. Aside from it offers variety of poker games, emphasizes anonymity and security, offers bonuses, it also explains the dos and don'ts inside the site. Although there are glitches in terms of graphic design, it can be easily improved to make it more attractive to the players. Want to play and try bitcoin/litecoin poker now? Read more about Live Bitcoin Poker now.
Related News
Learn about their latest developments, announcements, and new products in the related news articles below.