In-Depth Review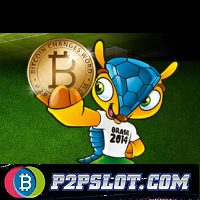 The FIFA World Cup fever is definitely too hot to ignore; that is why numerous online gambling sites are riding on its fame, especially those Bitcoin sports betting sites that incorporate this much-awaited international football event into their gambling services. One example is P2P Slot, which purely offers its services for World Cup betting.
P2P Slot is not your average online sportsbook, and it does not feature any other sporting events aside from the World Cup in Brazil. However, it provides a wide range of betting options that are guaranteed to keep the excitement on a high note.
Betting on this gambling site is simple because you only have to choose from the available betting options, including Handicap Betting and Double Chance.
However, besides predicting the winner for each match, this sports betting site also features fun betting options like the total number of red cards to be awarded for the entire tournament. Similarly, you can bet on the cumulative scores of all played matches and wait for the World Cup to finish in order to find out if your bet is, indeed, correct.
Aside from these betting options, it is also possible to wager on who the champion will be by choosing from the list of countries available on the betting interface. Likewise, the 1st and 2nd places are also open for Bitcoin betting.
When it comes to the fairness of the results, there is absolutely nothing to worry about because all the game data is fair, having been outsourced from the official results provided by FIFA. Therefore, all you have to think of are the odds of each team to win.
An interesting aspect about P2P Slot, though, is the game currency it uses. It is a given that this betting site accepts bitcoins, but what is noteworthy is that all Bitcoin deposits are automatically converted to the site's game points, which are represented by the letter P.
A total of 100 points is equivalent to 0.01 BTC, so expect your bets to bear this denomination. Likewise, all stakes are formatted in points. Thus, whether you have opted for the Double Chance bet or the Handicap Betting, you will place bets on these using game points.
In the event you have chosen to wrap up your World Cup betting experience on this Bitcoin gambling platform, simply exchange all the game points to BTC and have them delivered to your Bitcoin wallet.
Besides the various ways to bet on this site, however, it also features extra rewards that can be won by following the terms specified on the site. This only shows that a myriad of freebies are truly given away to celebrate this quadrennial event.
Clearly, if you wish to rake in from the World Cup betting, P2P Slot will be among the great choices. The availability of a variety of betting options is definitely a factor that makes this Bitcoin sports betting site worth joining.
Related News
Learn about their latest developments, announcements, and new products in the related news articles below.