In-Depth Review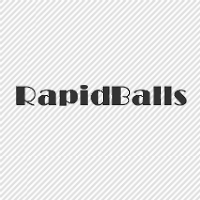 If Instant Lotto is the name of your game, then Rapid Balls is the gaming platform for you. This Bitcoin lottery site offers fast and convenient way to play varieties of lottery with bitcoins in addition to the brilliant features it offers such as no account required, provably fair, instantly paid winnings, and other highlights you wouldn't easily find in other lottery sites.
Rapid Balls accepts multiple digital currencies namely Bitcoin, Worldcoin, Primecoin, and even with Tickets. This site offers random 6/49 five-minute lotto wherein the minimum and maximum bets vary based on the virtual currency you will be opting to use. In addition, jackpots in these lotto games increase often; hence, it is better to play wisely to get the right spot in hitting the jackpot. In terms of language, English is the only one being supported by this gaming platform.
There are four ways to play lottery in this Bitcoin gambling site, the 'Lotto', 'Colors', 'Totals', as well as 'Lucky'. In the first one, you have to pick 6 numbers from 1-49 and if those numbers reflected the results, you will bag the pot full of winnings. On the other hand, each draw presents 6 balls with a variety of colors. By opting to play 'Colors', you will be predicting how many of one particular color will be drawn. In 'Totals', you just have to guess the possible range of the sum of the balls drawn together; and lastly, with the 'Lucky', you have to exactly predict the correct range of the lucky numbers that will be drawn.
You will surely feel privilege with Rapid Balls since it offers promotions you just can't afford to miss. First reward that will be yours is a 10% free bonus if you select 500 Lotto Draws and second one is the 'Daily faucet giveaways on all currencies'. This bonus is actually a great one to take advantage of since this will increase your betting power and will give you more chances of bringing home the jackpot.
Good thing about this bitcoin portal is the fact that you do not need an account to get started. You just have to place your bets by sending them to the wallet address provided. If you win, you earnings will instantly be received in the address you have sent your wagers from. On the other hand, transparency is assured at Rapid Balls since it provides the tables for the results which include biggest payouts, recent draws, top 5 numbers, and others.
If you want to play and win real fast with bitcoin lottery, the Bitcoin betting site for you is definitely Rapid Balls. With these gainful benefits, you will never go wrong with this site; though it is important to keep in mind to be wise to make the most out of your wagers. Want to be an instant jackpot winner? Learn more about Rapid Balls here.
Related News
Learn about their latest developments, announcements, and new products in the related news articles below.