In-Depth Review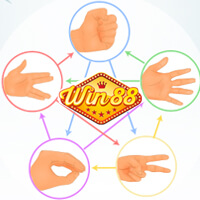 RPSLS is the modified version of the popular game Rock, Paper, Scissors. With the addition of the new elements—lizard and Spock—the game variation has become more entertaining and exciting to play, even more so with Bitcoin bets.
Hosted on the Win88 Bitcoin casino along with Bitcoin dice and lottery, this game creates a unique betting experience that is hardly present on other Bitcoin gambling platforms. This alone adds points in favor to this brand.
Aside from the mere fact that RPSLS is already an attractive game, Win88 decided to bring the gameplay to the next level by adding the option to battle real opponents on the web. Thus, a multiplayer mode is available besides the single-player mode for the game.
In the single-player mode, you will wager and play against the computer. In this version, 20% of each draw will go to the house. This means that the house edge in this mode is flexible and dependent of the amount wagered.
On the other hand, the multiplayer mode has a fixed house edge of 0.1%. Entering this mode, however, will undergo the process of finding opponents playing from any part of the world. What is great about this is that it gives you opponents that have a bet that falls within the range of your wager. Thus, this game matches the real-time players strategically.
While the availability of the two game modes is already an interesting aspect, RPSLS is also provably fair, making it all the more appealing. Meticulous bettors will have no problem wagering their bitcoins on this game, after all, since it is free of any cheating and that it is absolutely fun.
Of course, signing up for an account is necessary to play this game, unless you have previously registered to bet on Bitcoin lottery and dice. In the event you have not played here before, then it is a must to provide a username, change the password after, and add your email address if preferred.
With an account already created, the next thing is to deposit at least 0.001 BTC to the provided Bitcoin wallet address or through the posted QR code. You have the option to tap other payment methods, though, like PayPal, credit cards, and Skrill.
Bitcoin deposits must clear two confirmations, so this may take up to an hour. More often than not, this process should be done within 20 minutes. Withdrawing winnings, however, only need one confirmed deposit; thus, you may receive your cashouts in just a short time.
One thing to take note when depositing or withdrawing, though, is that all deposits are free, but every withdrawal requires a 0.0002 BTC fee.
In case you do not feel like funding your account just yet or if you have run out of bitcoins, just simply collect some from the Bitcoin faucet on the website. Enter the correct captcha code to receive free 0.00002 BTC to begin playing Rock, Paper, Scissors, Lizard, Spock.
Overall, RPSLS is an interesting and enjoyable Bitcoin game to play, especially now that it is hosted in a Bitcoin casino. Its provable fairness, dual betting modes, and reasonable house edge make the gambling experience simply favorable to the players.
Related News
Learn about their latest developments, announcements, and new products in the related news articles below.