In-Depth Review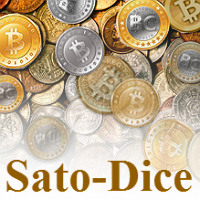 Avid dice players worldwide are guaranteed to have a blast playing the fast-paced dice game offered by Sato Dice. With 100% excitement and convenience offered, this Bitcoin gambling site will certainly take bettors to a whole new level of playing dice online. What is even more amazing is that this game packs a fantastic set of gaming features and services as well as extra factors that make this Bitcoin dice site so much more attractive, rewarding, and absolutely remarkable. These are the reasons dice players who want to experience nothing but the best Bitcoin dice game should head over to this site to begin wagering on its featured game.
Although not as fancy as some of the Bitcoin dice sites or casinos that boasts of visually appealing interface and design, Sato Dice employs simplicity and cohesiveness, which make its betting interface appear more organized, straight to the point, and easy to use. As a matter of fact, new players to the site should not take more than a few minutes to understand how to play dice. Therefore, bettors can expect to make their wagers right away without any trouble.
Aside from its user-friendly interface, this dice game uses the popular game concept of Roll Hi/Roll Lo. Thus, dice enthusiasts as well as first timers in the world of Bitcoin online gambling are assured of quick and easy game mechanics that yield high payouts with only 1% house edge. In fact, all that is needed to do is to indicate the preferred chance percentage, which also serves as the basis of the prediction. Based on the chance percentage, the payout automatically adjusts, where high chance translates to low payout multiplier and vice versa.
Based on its mechanics alone, Sato Dice is poised to become one of the most in-demand Bitcoin dice games online. However, this is not the only factor that makes this dice site undeniably appealing because it is filled with more exceptional features and services.
For one, bettors will not have to worry about any form of cheating or game manipulation because this dice game is provably fair. Therefore, players from any part of the world can verify the fairness of every game outcome and be confident that the payouts are awarded accurately.
In addition, this gaming site offers dice enthusiasts several options to earn more bitcoins aside from the actual winnings paid to them. One way is through its weekly competition that rewards 0.5 BTC to the best player who have acquired the highest bankroll. Another is through its bonus where a random winner will be chosen from the last 100 bets in the All Bets section. Moreover, one lucky winner will take home the progressive jackpot every week.
With all these elements working seamlessly together, Sato Dice surely succeeds in turning the typical dice game to a profit-making machine that brings the best gaming experience bettors have been wishing for. Thus, players must absolutely give this dice game a roll.
Related News
Learn about their latest developments, announcements, and new products in the related news articles below.