In-Depth Review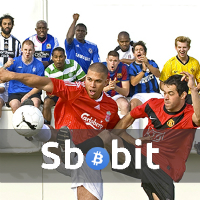 There are wide arrays of bitcoin sports betting platforms to choose from; however, if you just fancy betting on soccer more than the others, Sbobit is a bitcoin sportsbook worth checking out. It is relatively new in the industry but with the looks of their site and features, the possibility of a unique sportsbetting experience with bitcoins is good. Getting bitcoins is quite easy. You can either buy Bitcoins or get free Bitcoins.
Since Sbobit accepts only bitcoins as their primary mode of payment, you can guarantee of the perks such as anonymity, easy and speedy transactions, and more. Furthermore, it supports Italian language aside from English because this platform mostly caters bettors from Europe, specifically Italy.
To get started with Sbobit, no registration is required. All you have to do is remember five simple steps. First, you have to download the 'Odds' from the menu. This file contains the code number of match, type of bet you want to do, and the odds linked to it. It is the most important thing you have to keep when you opt to bet with this site since you will send your final coupon based on this.
Since you have the complete 'Odds' with you, you can now choose the events to place your wager on and calculate your wins. To know this, all you have to do is decide the amount of your bitcoin bet and multiply it by all odds. The full process on how to do this is available in the site. Once you are done, you can directly send your payment on the wallet address provided. After, send your ticket or final coupon to the address they have given. It must include your chosen match, amount of bet, and of course, your bitcoin address. If your sporty prediction is correct, you will receive your winnings directly in your Bitcoin wallet.
Unlike other bitcoin sportsbook, Sbobit offers full and clear Odds details. This will help you easily understand how the odds work in typical games such as 1X2, Double Chance, Under/Over 2.5, and Goal/No Goal. With this, you can easily know the limitations and rules you have to adhere to avoid hassles.
On the other hand, the main downside of this sportsbetting platform is they don't have enough information about them as well as a FAQ page to aid the novice bettors who want to try betting in their site. This aspect is important for the bettors to assure of one important thing: Trust. However, this shortcoming was been relieved a little since they offer customer support via email.
Overall, Sbobit  is a good Bitcoin sports betting site for soccer enthusiasts since it offers fast and speedy process of betting. However, it is a must to test the waters first before going for a plunge since it is new in this industry. If you want to know more about Sbobit, just read about it here.
Related News
Learn about their latest developments, announcements, and new products in the related news articles below.