In-Depth Review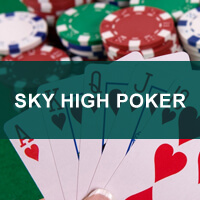 Sky High Poker is one of the first batches of gambling sites that debuted on the market in 2015. Despite this, it shows great potential to stay in this niche and continue to provide Bitcoin gambling services online.
Its being fresh can work both ways. On one hand, some players may view this as a disadvantage. They may point out the seemingly lack of professional touch on the graphics and design departments as evident on its website. It looks a little bland, and it definitely misses exciting elements usually found in a Bitcoin casino or at least in a Bitcoin poker room.
On the other hand, this actually hints a beginning of something new or an improvement from the previously launched betting sites. After all, it only has a short stay in the business so far, which means that it has plenty more time to develop certain areas.
Regardless, Sky High Poker is an anonymous Bitcoin gambling platform. Although it has the word 'poker' as part of its brand name, it also offers other games besides poker.
As a matter of fact, players will find here Jacks or Better paired with Bitcoin blackjack and roulette. Most of these games can be played for free, but it looks as if actual bets will be needed once the site is fully developed.
Besides these Bitcoin games, bettors can play poker. By the looks of it, Bitcoin poker is its primary offering, which sounds logical enough by relating this with its name.
While it is clearly far from reaching the status established Bitcoin poker rooms like SealsWithClubs and Betcoin Poker have achieved already, the poker gambling services highlighted here is not bad at all.
Texas Holdem and Omaha are available on the platform. To make things better, a 1 BTC tournament is also present on this site, together with its hourly freerolls.
Although there are already some players who have already tried the games here on Sky High Poker, it still definitely needs to attract more players in the weeks and months to come.
However, it is worth noting that it has a feature that makes it somewhat function like a Bitcoin exchange. On its menu bar is the Buy BTC tab, which as the name implies, allows players to purchase the digital currency. True enough, bettors can use the conventional methods to buy bitcoins. Since this website is based in the UK, the recognized fiat currency is the British pound.
On a different note, everyone who wishes to experience playing here must register. This is the golden rule. There is nothing troublesome in signing up for an account here. In fact, only the email address and a password are needed. Updating the profile later on is optional, though.
With barely months in the Bitcoin gambling market, Sky High Poker already shows certain aspects that may push it closer to the players. However, there is a demand for this website to develop even more in order to become more competitive and reputable. Likewise, it should consider offering other ways for customer support other than through email or its official thread on Bitcointalk.
Related News
Learn about their latest developments, announcements, and new products in the related news articles below.