In-Depth Review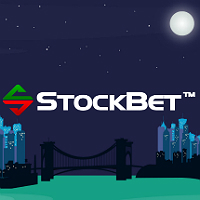 Those who are well-versed in stocks trading and have a passion for gambling online may find a great deal of interest on StockBet. A new site built on the Bitcoin platform and technology, it combines the seemingly intimidating world of stocks and the convenience of Bitcoin gambling. However, it should be noted that it is not designed for traders, who wish to invest in stocks per se, and for casino enthusiasts, who prefer to wager on casino games.
StockBet has a unique attack on betting with bitcoins. Instead of featuring a series of Bitcoin games or launching a Bitcoin casino, it incorporates the idea of predicting the behavior of stocks, specifically whether they will rise or fall in the market.
While it shares certain similarities with stocks trading, betting on stocks using the virtual currency mainly involves playing a game, where bulls and bears are guaranteed to have fun. To date, it has already launched its first game, which is called BullBear.
In this game, players can place bets and even engage in a debate and banter against their friends or other players regarding the likelihood for a stock or index to go up or down. This does not only make stocks profitable, but it also makes it so much fun.
StockBet practically empowers everyone, even those who do not have huge funds, because it enables people to place bets on stocks for as low as 0.001 BTC—an amount that is far more affordable than that required for actual trades. Besides stocks, they can also bet on initial public offerings (IPOs).
What is absolutely great about this site is it offers a great set of stocks and IPOs to bet on, giving players the freedom to choose. Once they have selected a stock or index, then the real fun begins as they share a laugh with others through the BullBear game.
Aside from the game and the services offered on this site, players will also marvel at the ease of registering for an account. There are two ways people can sign up for an account: through the normal account registration procedure or through the Facebook login system.
Choosing the first option requires people to key in their email address and a password. On the other hand, signing up through Facebook login prompts for their registered email address or phone number together with their Facebook password.
However, players must be advised that if they log in through Facebook, they will only be able to bet using the free chips provided because betting with bitcoins is prohibited for this option. Nevertheless, they will still be able to play using the virtual currency by directly registering on the site.
Clearly, StockBet presents an interesting way to profit from stocks with the use of Bitcoin. Although this form of online gambling may have a limited market, it has the right mix of services that are essential to provide an exceptional gambling experience.
Related News
Learn about their latest developments, announcements, and new products in the related news articles below.