If you haven't tried betting on horse racing with Bitcoin, expect real action and chances at huge payouts. Make the right choices and you'll end up with more bitcoins. Get started now and let this guide help you.
Know how to read horse racing cards
If you're on a Bitcoin horse betting site like Nitrogen Sports or DirectBet, you'll see a list of the races it covers. The race card shows the stall number. This tells you the position of the horse in the race. You'll also see here the details about the horse, the jockey, and the trainer. This should already give an idea about the performance of every horse. Don't forget to also check on the card the age and weight of the horse.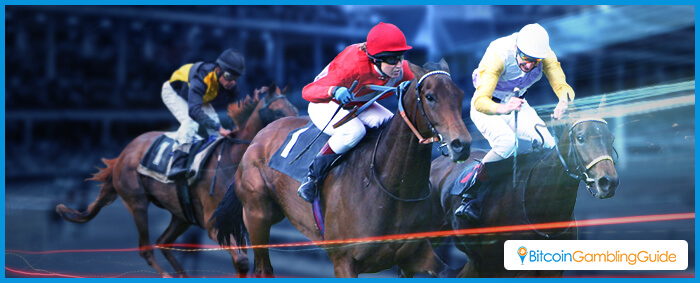 Some horse betting sites also show the RP rating. The horses' previous odds and current odds are also available. This information helps determine on which horses you should bet on. Make sure you understand how race cards work. This way, you'll have an easier time betting on horse racing.
Starting placing horse racing bets
The next step to learn in Bitcoin horse betting is how to make a bet. The traditional way to bet is to go to the track and place a wager. Bitcoin horse betting is a bit different. Online sportsbooks still have the ticket system, but it also allows bettors to make multiple bets easily.
If you want to make a bet, you'll need to select a race, set the amount, pick out the type of bet you want to make, and the horse you've picked. You can bet on three types of bets: win, place, and show. This is the case in some online sportsbooks. But keep in mind that most Bitcoin horse betting sites offer a simpler way to bet.
Place your deposits and get ready to wager right away. Choose the right horses and aim for the win.
Betting variations in Bitcoin horse betting
You can place different bets on horse racing. You can bet on the exact order the horses finish in a race or bet on the winners of multiple races. You also have the choice to try the other betting options. But if this would just be your first time in Bitcoin horse betting, make sure to understand it first. This way, you can still push for higher payouts in every race.