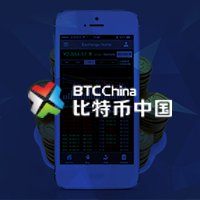 Although the Chinese government is not entirely optimistic or in favor of Bitcoin, an online Bitcoin exchange catering for the Chinese market exists and continues its growth to become one of the largest trading platforms in the world.
BTC China, which was founded in 2011, is one of the most well-known online Bitcoin exchanges. Since its commendable start in the Bitcoin trading market, this brand has undergone major changes that helped propel its transformation into a cohesive Bitcoin platform that also functions as a payment processor and a digital currency mining pool.
As a Bitcoin exchange, this platform hosts three trading pairs in the form of BTC/CNY, LTC/CNY, and LTC/BTC. Given the fact that this online exchange is directly operating to provide Bitcoin users in the Chinese soil with reliable services for the purchase and sale of the digital currency, Bitcoin and Litecoin are paired with the Chinese yuan and not with the US dollar.
Nevertheless, the US dollar is supported on this platform. This means that Bitcoin gambling players like yourself may also deposit and withdraw US dollars when trading Bitcoin. Of course, the Chinese yuan is accepted, as well as the Hong Kong dollar.
BTC China offers a user-friendly trading interface that is also optimized for mobile phones like the iOS devices. Therefore, bitcoiners who are always on the go can conveniently access the mobile exchange in the event they need to purchase more bitcoins and litecoins or to exchange them for fiat money.
Starting your trading sessions on this website involves setting up an account, which is the normal protocol in just about any Bitcoin exchange currently in operation.
There is nothing to worry, though, because this process takes only a few steps and minutes. The account, which is called the passport in the case of BTC China, will walk you through the verification of your email, the setup of your account security, and into your maiden transaction.
With the availability of its services extending beyond the exchange of Bitcoin, players can expect to soon find the benefits it brings to the Bitcoin casino market and to the broader Bitcoin gambling sector. However, for now, BTC China is a great option to buy and sell bitcoins using the US and Hong Kong dollars or the Chinese yuan.