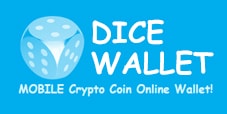 Officially launched on Feb. 2, DICE Wallet is an interesting mobile app that can help ease your entry into the world of cryptocurrency. Ever since Satoshi Nakamoto publicly released his white paper of Bitcoin and the blockchain technology behind it, people have often tried to follow in his footsteps and set up their own blockchain network.
This has led to an explosion of cryptocurrencies. Bitcoin may be in the lead right now, but others like Litecoin and Ripple are catching up. Quite a few people actually own multiple types of cryptocurrencies. The main problem is handling all of them.
This is because the basic way for people to store their cryptocurrencies is through cryptocurrency wallets. Like physical wallets, these come in different types. The most common wallet type is the desktop one. Users would do their transactions from their PC. The problem is that people cannot carry around their desktops or check with their laptops every time they want to buy something.
Having a mobile wallet solves this dilemma. Mobile wallets are lightweight apps downloaded to smartphones that can be used to send and receive cryptocurrencies. They are not a problem if a user only uses one cryptocurrency, but if a person has bitcoins, litecoins, and others and wants to use them, the different wallet apps can be confusing to organize.
DICE Wallet is here to be a solution to that problem.
Why DICE Wallet?
DICE Wallet was developed by Takuya Hashiyada's company, Mythology Holdings, in Singapore. Working on the app for the past few months, the company has created an all-in-one wallet solution for a variety of popular cryptocurrencies. This includes Bitcoin, Litecoin, Dogecoin, Smartcoin, and Ripple.
A customer does not need to open and close different apps anymore if they are using bitcoins and litecoins while shopping. A simple swipe with this app and a listing of all the funds available to a user is displayed. Anyone who is seriously into cryptocurrency should consider downloading this app for what it brings to the table.
The features
The main reason people would want to use this app is the cross-functionality between the different cryptocurrencies. The app manages to integrate the different currencies smoothly, ensuring user satisfaction. This is not the only thing DICE Wallet has to offer, though.
The app has several features that make it attractive. First, it can send bitcoins, litecoins, and dogecoins to any digital coin address. Second, it also lets users to send their cryptocurrencies to the email addresses for people without Bitcoin or digital currency wallets. This effectively lets people pay them money directly.
Finally, the app is a secure one. DICE Wallet knows that people like to keep their money and the best way to do this is by stringent security measures. This includes touch and password protection. It also uses the best possible encryption to protect customer data.
The app is currently only available for the iPhone, but the developers promise an Android version soon.