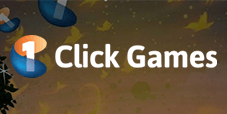 1ClickGames is about giving operators all the tools needed to successfully run a casino through a single access point. An operator can see all the data of his players and control different parts of his casino in just one place. The best benefit an operator can get from the company is the ability to accept Bitcoin payments.
People who sign up at a Bitcoin casino that uses the company's services are in for a treat. These players have access to a large library of games that also includes live casino games. Players can also make wagers with different sports betting matches. This is what makes them the Bitcoin casino software choice by many operators
Casino platform
1ClickGame's CRM platform provides the needed tools in one place as well as provide many different options to help you build your brand. The platform lets you take on different types of currency around the world without having to use another company's software to make it work on your casino. The platform can also adjust the games to match a player's currency and language.
Apart from the usual fiat currency, the platform lets you take in Bitcoin payment. Many people in different countries own some of the digital currency. By opening the doors to Bitcoin, you can bring in many players from around the globe.
Another amazing feature of 1ClickGames platform is its reporting tools. You can get a useful report on your players and the games they bet money with. The platform also automatically checks for any possible fraud attempts in your casino. The CRM practically helps you and managers of your company to make the right decision.
The CRM is stable enough to meet the industry standards. Casinos that have this platform can easily take in more than a million people at the same time. There is a 24/7 team who checks on the network health of the casino.
Casino betting options
1ClickGames has a white label casino software solution for any casino. You can enjoy more than 1,500 different casino titles from leading game makers. This includes NetEnt, Playtech, and Microgaming. Included are live dealer games that let you make wagers on actual cards and roulette wheels.
The fun does not end with casino games. The company also offers a sportsbook and other solution. You can make sports bet on most major sporting events.  You can even take the 1ClickGames software with you on your phone or tablet to the match and place bets while watching the game itself.