When GameART opened its doors in late 2014, it was the culmination of efforts by gambling experts who have an accumulated 20 years of experience in the industry. This has resulted in the creation of a premium B2B provider and developer with offices in Malta, Slovenia, Serbia and United Kingdom.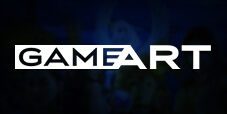 The developer's main business is the development of high-quality slot games for a wide variety of customers. This ranges from online casino to video terminals in land-based casinos.
Solid library of games
The games provided the company all look great, with the team showing off their skills and experience. Anyone playing a GameART game is sure to be pleased with the excellent graphics and the smooth gameplay. All of GameART's products can work with any regulated market and any social media platform.
In addition, GameART offers some of the most cost-effective games out there, in full compliance with the latest technological standards, software engineering, and integration protocols. Gambling operators can be sure that they are getting the most from their money when it comes to signing up with GameART.
In addition to the current game offerings, GameART can also produce customized games and gaming platforms that can meet client requests. The core technology behind all of GameART products ensures true multiplatform capability, while its game management system provides licensees extensive integration options, high-level bonuses, and CRM capabilities. All GameART products can be integrated with any existing gaming platform. This is because the games are fully compatible with all operating systems, thanks to HTML5, Flash, and mobile implementation.
Latest GameART developments
Thanks to these properties, the company managed to sign up with more than 200 brands in 2015 alone. Despite a smaller library than its competitors, GameART is quickly catching up, with 26 new brand titles being released in only seven months, with more in the pipe.
This is why it has managed to catch the attention of SoftSwiss. The company is constantly expanding its portfolio of gaming content by partnering with the world's best game developers, and GameART is part of that select number. With the seamless integration performed by SoftSwiss professionals, games produced by GameART are now available to all SoftSwiss clients, including BitStarz, mBit Casino, and more. In combination with authentic SoftSwiss games and products of 14 other partnering providers, GameART can proudly proclaim that it has become a world leader.
GameART is not stopping there, though. The company is still seeking strategic partnerships and developing its own technology to stay competitive in the marketplace.