The Quickfire platform makes it easy for you to add most of Microgaming's amazing games to your website. You only need to integrate just the platform to include the games to your casino's library.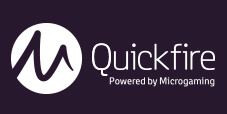 Other than an easy way to get more games to the casino, the platform has a large array of benefits. This includes multi-language and multi-currency support for its games. It is one of the most sought-after Bitcoin casino software in the industry because of its advantages.
New standard and progressive Quickfire games
When a casino operator wants to include more than one game to the online casino, he will need to integrate them one at a time. Integrating a game takes a considerable amount of time and money. This is where Microgaming steps in.
They only need to install the Quickfire platform to include more than 400 games to the site. This simple integration allows for a large variety of casino games for the players in a short amount of time. Adding the platform to the site is also cost efficient than having to add more than one game.
Having Quickfire in the Bitcoin casino does not mean that there is only a set of popular Microgaming games from the past.  The casino will also receive any of the latest Microgaming games of the month. Players will have a reason to keep coming back to the casino, thanks to the platform.
Progressive jackpots also have a way of attracting a crowd. The progressive slots' incredibly huge prize pool keeps on increasing as people keep on playing the game. Microgaming is home to one of the largest progressive jackpot network in the online gambling industry. Microgaming's progressive slots are sure to help draw in many players who want a shot at the prize.
Flexible platform with multi-currency and language support
The most import part of Quickfire is its range of option. Operators have total control of the player's casino account as well as its account wallet function in the platform. They can also adjust the type of content on the platform that their players have access to. These options in the platform ensure that they are able to build up the brand identity with the help of the platform.
Quickfire games can support about 20 different languages. It can also support various world currencies. This makes the platform accessible to various countries across the globe. Players can find the Microgaming and Quickfire games in casinos like Mars Casino and Tonybet.