Etoro – the world's leading social investment network with over three million traders – has brought Bitcoin to their trading platform for you to invest in. This digital currency is definitely available for trading through the eToro OpenBook. However, it is traded a 'Stock' and not a 'Currency'.
Etoro's Social Trading
Just like Bitcoin, Etoro was born out of the social revolution because of social trading. This trading platform offers an internet revolution wherein its users connects to trade and talk about the latest financial trends. In addition, it definitely allows everyone to tap into the wisdom and habits of successful traders to make investments with little knowledge about the stock market with as small as $10 initial investment. In trading platform, you can connect with other traders as well as investors and copy their trades to increase your chances of earning.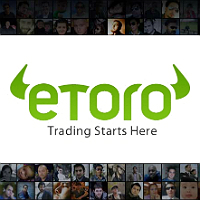 How to Invest in Bitcoin at Etoro?
Even you are new to Bitcoin forex trading, you will find everything just a piece of cake because it is very much like investing in stocks.
First thing you have to do is go to the 'Bitcoin Page' on eToro OpenBook. Click on the 'Buy Stock' button and select the amount you want to invest, which can be as little as $10. After you confirmed your order, it will be placed and will await trade execution. Yes, you can definitely invest in bitcoin in as fast and easy as few clicks of control buttons. Just take note that Bitcoin forex trading is not available over weekends and holidays. In addition, all Bitcoin orders are executed in bulk four times a day at a market price so it is recommended to look at longer price trends when considering your investment.
Trade Bitcoin in your Mobile Device
At Etoro, it is certainly possible to trade Bitcoin wherever you go. They offer bunch of good mobile applications that will keep you connected to the financial market anytime and anywhere. Definitely, it is a great feature you must get the most of to manage your trading portfolio, receive signals for profitable opportunities, and of course, trade on the go.
Payment Methods Accepted
A reliable Forex broker needs to make trading easy and convenient as possible. This covers not only the trading process itself, but also funding of accounts and withdrawal of profits. In this aspect, Etoro has provided several modes of payment such as credit card, online payment processor, and normal wire transfer including Western Union.
Other Competitive Offers
As a customer of this online trading platform, you will enjoy some competitive Bitcoin gambling conditions such as low spreads, no roll over fees, no dealing desks, no commissions, and Islamic accounts are available. There are also exclusive trader programs you can enroll and benefit from their personal service culture. To top it all, you can definitely get in touch with their customer support 24 hours from Mondays to Fridays with 16 multiple languages supported aside from English.