A new evolution of games entitles players with full ownership of any items they earn. Blockchain-powered games make this possible by utilizing the technology behind Bitcoin. Other than Bitcoin gambling, the blockchain technology opens more possibilities for games to evolve.
Two notable blockchain games—one still in development, the other already released—are Spells of Genesis and Augmentors. Spells of Genesis is an action-oriented trading card game. Augmentors, on the other hand, is a creature-collecting game.
Ownership of a game item is a big deal for many players. Even if a person buys every card or item from a game, everything he owns is with the developers. He could lose all of it if the developers choose to close the game.
Spells of Genesis and Augmentors allow players to fully own the item. Even if the two blockchain games closes, he will still have his entire inventory, which he can trade or sell to other players. There are even plans where the in-game items of Spells of Genesis will work with another blockchain game in the future.
Spells of Genesis
Spells of Genesis is a different type of trading card game developed by EverdreamSoft. In a common card game, two players simply place their cards' attack on the field to put them in play. In Spells of Genesis, a player has an active role where he directs his card's attack into the field like a billiard ball. A player's goal is to hit one or more of the enemy creatures that are on the field.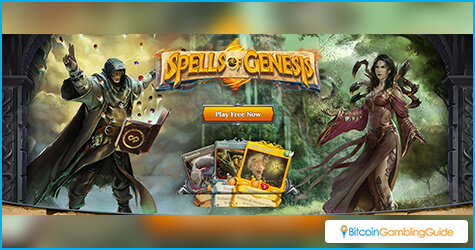 The game is currently on Version 1.0.4 called Mafia Goblin. One of the new features is a community forum page. The community helps create a structured place for players and the Spells of Genesis developers to interact with one another. There are also a number of bug fixes for this version. This includes the Virbulos Card evolution error.
Spells of Genesis is already available on mobile, but the trading card game also launched for desktop earlier last year. EverdreamSoft continues to update the game, which is a follow-up from the successful game called Moonga.
Augmentors
The game Augmentors is the first augmented reality fighting game based on the blockchain. Players collect Augmentor creatures that they can train or trade with other people. Apart from obtaining Augmentors, players will also obtain relics. Relics can help the players' creature during the battle. These items are rewards for completing quests or participating in a special event.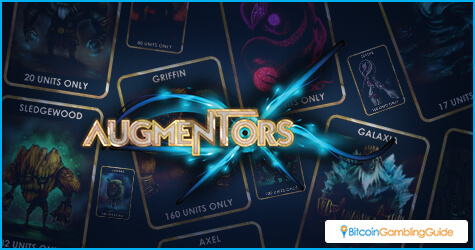 The team behind Augmentors was successful in closing an investment deal with the Shark Tank. Vinny Lingham and Gil Oved of the Shark Tank saw potential in a blockchain-powered application. Vinny is confident with investing in Augmentors after seeing the success of games that uses blockchain for its in-game item ownership.
Augmentors is still in development and is still in its fundraising period. People who are interested in helping the team can participate in the token pre-sale. People can buy DataBits in exchange for cryptocurrencies like Bitcoin. Databits is a currency to buy Augmentors tokens.