Roulette's long existence is reason enough for it to become a popular classic table game, and its charm extends to Bitcoin gambling. Numerous Bitcoin roulette games, some with variations even, are available in different cryptocurrency-powered casinos. These games' success, however, depend on key characteristics that prove to be more effective in connecting with the online gambling community.
In essence, the ideal Bitcoin roulette should focus on the gameplay per se without neglecting the design and user experience. Most Bitcoin casinos possess one of these qualities, but only a select few have all of the features that best appeal to the majority of players today.
Below are the details that sum up the various preferences and insights shared by Bitcoin bettors in a Bitcointalk forum thread dedicated in discovering what the different generations of players truly look for in Bitcoin roulette.
Simple, provably fair, and user-friendly
It may be a cliché to say a game that is simple enough and easy to play will likely win the hearts of many. This, however, still holds true when it comes to choosing the roulette game.
Players prefer to bet on roulette that largely focuses on the gameplay. This means that games without the unnecessary features make the betting experience easier for any type of player. Placing wagers and spinning the wheel should be as straightforward as clicking a button or two.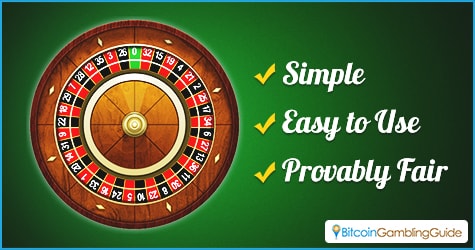 Bettors also give prime importance on the visual experience while playing roulette. It appears that games with animated wheels make the experience more engaging and interactive as compared to roulettes with static numbers. A straight-to-the-point layout table also helps, but creativity with colors and effects also adds wonders to the classic game.
Other than its user-friendliness, provable fairness is also tagged as an essential feature of the roulette game. Unique to Bitcoin gambling, being able to verify every game result gives players the sense of security, which is absent in the computer-generated casino games powered by real money.
European roulette over American and French
In terms of the kind of roulette game, European roulette emerged as the highly favored variant of all that is available in the cryptocurrency betting market.
This should not be a surprise since European roulette also rules in online real-money gambling due to its better winning odds. This also explains the reason a Bitcoin casino mostly offers European roulette, along with the other variants like American and French roulette games. It is more common to find a Bitcoin roulette game with a single zero, though, especially on roulette-only betting websites.
Some may argue, however, that French roulette provides almost the same gambling experience, if not more. Unfortunately, there are not many French roulette games that run on Bitcoin save for the one developed by UltraPlay. Therefore, players are not exposed to placing bets on orphelins, voisins du zero, and tier du cylindre.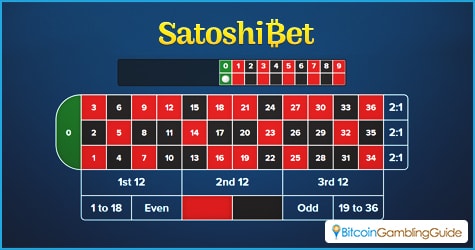 Ideal Bitcoin roulette offered in select casinos
Granted that the mentioned earlier are the factors that appeal the most to the Bitcoin gambling enthusiasts, certain names in the niche stand out.
SatoshiBet, a Bitcoin casino that originally debuted with only a few games, is a popular brand among roulette players; thanks to its simple, user-friendly, and provably fair European roulette game. It also runs on Litecoin, Dogecoin, and DASH, and it can be played using the play money or through the free coins from the faucet.
Players also find CoinRoyale to be a perfect venue for betting on roulette since it offers a similar game to that of SatoshiBet.
Moreover, FortuneJack, which is known for accepting several cryptocurrencies and hosting numerous Bitcoin games, is another casino that is flocked by players to play a game or two of European roulette. With a vast collection of games, registered bettors may choose from live roulette and other variants that are developed by known Bitcoin casino software and game content providers like SoftSwiss.