When dealing with gambling with Bitcoin, the value of each coin has an impact on how players perceive the amount they're spending. While it is really the same in actuality (being that if you deposit at $300 and withdraw at $300 they would be equal), we view these as being vastly different. And when it comes to gambling, perception is everything.
When we're at the $400 range, it means each mBTC is worth $0.40. At $300, each would be $0.30. Most casinos like Bitcoinbet and Bitstars use mBTC as their form of tokens for both depositing and withdrawing. And some sites will go a step further and allow for playing with fractions of an mBTC, allowing true micro-stakes to be played. At this point, you may be wondering why the value matters, then, if most casinos just use mBTC (which isn't denoted in USD at all, aside from converting in one direction or another). The reason for this is simple: at lower values, there are more coins you can play with for the same amount of fiat money.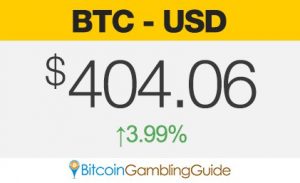 Let's use a scenario. On one hand, the Bitcoin price in fiat is $250 each. You have $500 you can risk, so you throw it into Bitcoin. Now you have 2 BTC to use. You head to an online casino, which then has games with stakes as low as 1 mBTC. You have enough coin to play through a minimum of 2000 rounds (assuming each one ended in a loss, which is highly unlikely).
In a similar situation, you have $500 still, but Bitcoin is currently trading at $500. You can then only afford a single Bitcoin. This means you can take 1000 rounds minimum (again, assuming each one is a loss) before running out.
In both of these scenarios, you are playing with the same amount of fiat money. The difference here is that the stakes in the second scenario (with Bitcoin at $500) are actually twice as high as the first. A great way to explain this is to look at it as a system that allows players to gamble amounts of $0.01, 0.05, 0.10 and 0.25. With Bitcoin at $250, it's like playing on the $0.05 denomination. When Bitcoin jumps up to $500, it's like playing on the $0.10 one. The mBTC hasn't changed at all. What has, however, is the actual amount of money that is being risked with each round.
All of this leads to the question: is the $300-$400 range good for Bitcoin gambling? This is a hard thing to answer. For those that want to play in smaller stakes, the lower Bitcoin prices are better. For those that want to increase their Bitcoin holdings and don't care as much about the price right now, it's irrelevant. And for those that want to play at higher stakes, the prices usually don't matter since most casinos allow for playing with high stakes regardless.