Trust has always been a major concern among online players, but this is bound to be resolved through the initiatives of a Chinese startup.
Bitshares Play or simply Play is a decentralized and autonomous game asset platform set to operate within the Bitcoin markets. It aims to improve the online gaming industry by targeting its core using the blockchain technology.
The startup believes that by building the industry on the said technology, it will succeed in creating a transparent industry that removes the need for trust.
It stated in its white paper that chance games like Bitcoin dice heavily rely on third parties, which opens the possibility of cheating:
"Even though some crypto based games on the Internet have provably random feeds which can be verified by the public, hidden players can cheat by submitting selective favorable transactions because they know the random secret in advance. Thus, players are forced to trust that a game operator is scrupulous. This reduces demand for these games and prevents those who simply do not trust the operator from playing."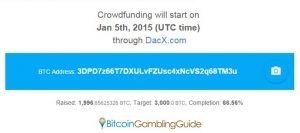 According to reports, the solution proposed by Play is to set up on-chain games, which are different, independent, and run completely on the blockchain.
The on-chain games that will be supported by this decentralized autonomous company (DAC) are third party products, including chance games, quiz games, chess games, probability and strategy-based games, as well as ByteMaster's proposed interactive multiple-unit game. Likewise, the Bitcoin gambling prediction market is expected to be supported by Play's initiative.
Aside from its mission to promote a blockchain-based game platform, Play also aims to decentralize everything, given that it eyes a future without the middle man. This gave rise to its plan to form a peer-to-peer game assets exchange that sells and trades game coins and assets.
In order to kick start these projects, Play has launched a crowdfunding session, which started on Jan. 5 on DACX. The crowdfunding is 66.56% complete as of writing since about 1,996 BTC have already been raised to reach its 3,000 BTC target.
Meanwhile, some of the betting sites on the Bitcoin casino market that use this setup are Satoshidice and the new Bitcoin dice Chainroll. However, the latter moved off-chain after encountering problems.