There is more than just the new looks of vDice.io as it prepares to give the mobile gaming scene a new flavor of entertainment.
vDice.io, which became popular for its Ethereum dice game, takes a step further with its plans of mobile integration. Mobile usage for gaming purposes is undeniably huge on a global scale, especially in Asia and emerging markets.
With immense requests from the betting community, vDice.io's latest project is in full swing and has already given a preview of how players can the game on smartphones and tablets.
Finding vDice.io on mobile
vDice.io is not alone in creating success with Ethereum on mobile. The dice betting site has already begun working with third-party developers from Status.im and Inzhoop. Both in-house and external developers collaborate to provide the most intuitive platforms for vDice.io on mobile.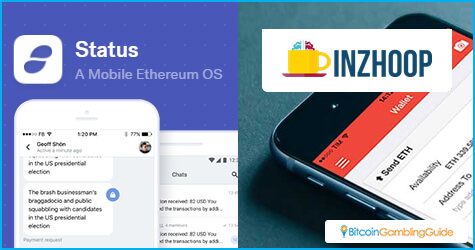 To date, vDice.io actively negotiates and works with Status to make this project a reality. Status showcased an impressive performance at EDCON and this served as their ticket to be at the forefront of bringing the vDice.io experience straight to both the iOS and Android platforms.
Also helping vDice.io find completion with its mobile integration is Inzhoop. In fact, the developers at Inzhoop have already released a beta preview of vDice.io on mobile. Players can access vDice.io on their mobile phones through the Inzhoop website.
As both Status and Inzhoop discover the perfect approaches to bring vDice.io on mobile, the betting community will soon experience Ethereum Dapps on their phones and tablets.
vDice.io, together with its partners, is eager to create a new way to experience betting with Ethereum. This is the reason it is also keen on receiving the feedback from players who have already tried the platform.
vDice.io Game and vDapps
Other than pushing for the highly sought-after mobile integration, vDice.io, which launched the vDice.io crowdsale in November last year, continues to improve its offerings. It started with the rebranding across all mediums, giving vDice.io a stronger and more professional feel.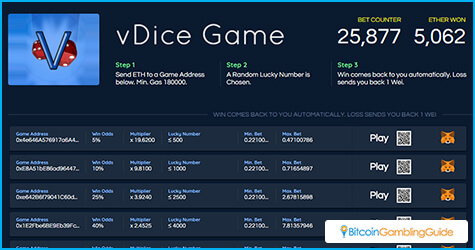 The vDice.io game, which was inspired by the classic dice game at SatoshiDice, recently registered over 25,000 bets. More than 5,000 ETH have also been won from the site's launch. At the same time, there was a significant decrease in terms of concern over the bet processing times.
Other than the vDice.io game, vDice.io is also adding vDapps to achieve its goal of becoming the platform where players can find Ethereum gambling decentralized apps (Dapps). The first vDapp, however, has not yet been launched but is touted to be released this month.
Until then, players can expect to see more vDapps to become available on the platform. This is also the reason a perfect platform for vDice.io on mobile is necessary. With a seamless mobile integration and different vDapps, vDice.io will be closer to becoming a leading innovator in both the Ethereum and Bitcoin gambling worlds.