It has been said that people will bet on anything and that is quite true. Bets can range from the final score at the Super Bowl to how well a specific stock performs. It is no surprise then that people are betting on the weather.
It may seem like a new trend but making bets on the weather has been around since Enron started offering weather futures in the early 2000s. It was initially started as a way to hedge against increased energy prices caused by cold weather: companies would buy futures on energy prices so that they would not lose money on their energy consumption and production.
Investing in the state of future weather is easy enough to understand and making minor bets is also a favored pastime by many. Wagering on what the highest temperature would be during summer or the lowest during winter is one of the common gambles made on betting sites, along with how many inches of rainfall or snow there will be.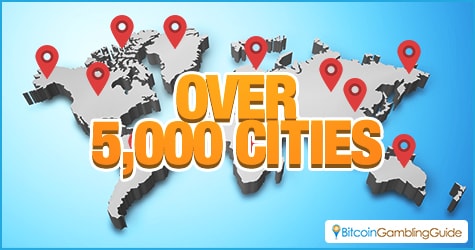 The trouble is that the usual online betting sites for betting on the weather usually deal only with real money. This is where Weathbet comes in. A unique and a first-of-its-kind website, it allows bettors to place bets using Bitcoin and other cryptocurrencies like in any other Bitcoin casino.
The cryptocurrency advantage
One of the main advantages that Weathbet has over its competition is its use of Bitcoin, Litecoin, and Dogecoin as its preferred medium of betting.
First, cryptocurrencies do not have the limitations of fiat currency. Betting with a credit card requires several layers of registration and legal entanglements. With a cryptocurrency, players do not even need to make an account; all bets are traced back to the payout address that the bettor uses.
Second, the transactions are fast. Deposits and payouts on normal betting sites are often measured in hours. Bitcoin and other deposit transactions made with the site require zero confirmations before they are approved. This means money is transferred instantly. Withdrawals may take longer, but the longest time to wait is in minutes since payouts are allowed with only one confirmation from the network.
Comprehensive and trustworthy site
Easy betting is not the only improvement Weathbet has over the other weather betting sites. Usually, weather betting sites limit themselves on the options they make available like the temperature.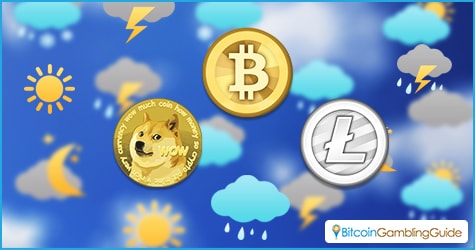 It is quite different when placing weather bets on Weathbet. It lets visitors bet on three categories: temperature, wind speed, and atmospheric pressure. Additionally, the site lets people make predictions from just one hour to an entire day, with the target of the bet being one of 5,000 cities worldwide. Players even have the option to make a bet while on the go since the site is available on mobile devices.
Moreover, gamblers can be sure that their wins and losses are legitimate. The site uses government weather stations and often publishes the actual weather conditions after the bet has expired.
Making money off the weather was never this easy. Interested gamblers should drop by and see what this Bitcoin prediction market for weather betting has to offer them.