999Dice Overview
999Dice is a provably fair Bitcoin dice site that offers 0.1% house edge, automated betting, high payout rate, a Bitcoin faucet, and instant transactions.
999Dice may be categorized as just another Bitcoin dice site, but it packs a set of commendable features like automated betting, high payout rates, instant transactions, Bitcoin faucet, and many more that make it competitive in the cryptocurrency dice sector.
Launched at the height of the rise of Bitcoin dice and other gambling sites, this website quickly attracted clients who appreciate its focus on the betting experience rather than the aesthetics. It also helps that it caters to Bitcoin players and those who prefer to play dice online using Litecoin, Ethereum, and Dogecoin. Learn more about this gambling site in our 999Dice review, including how you can get free Bitcoins from the faucet.
999Dice Pros & Cons
Pros
.01% House Edge
Live Chat
Bitcoin faucet
Referral Program
Cons
No Live Chat Support
No Bonuses
999Dice Games
999Dice appears to be more advantageous than the rest of the Bitcoin dice sites today since it offers a better payout rate and a low house edge. The 0.1% house edge is one of the lowest offered by any site in addition to the fact that it is 900% closer to what is called 'perfect equality.'
Focusing on the game, there is not much difference between the 999Dice game and your typical Bitcoin dice game. Players need to decide to bet on Low or High for every round. Win or lose 999dice offers players a ton of fun and a great online Bitcoin dice gambling experience.
Software Features & Graphics
The proprietary software allows batches of wagers to be processed immediately based on a specific formula. It will enable any player to make up to 200 bets at a time. The bets can be adjusted upwards by a particular percentage or reset to a specific base bet amount after a win or loss. The game's aesthetics is not as vibrant as a Bitcoin casino or other dice sites, but it gets the job done.
Account
Users can skip registration as accounts are automatically provided upon entering 999Dice. However, there is always an option to create a username and password and register an email address. You can also set up a Google Authenticator number for your account. Doing the latter option increases security and accessibility.
99Dice Imagery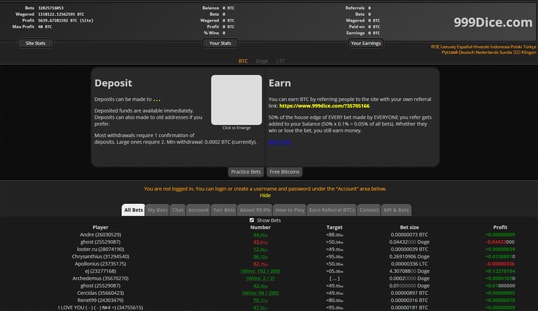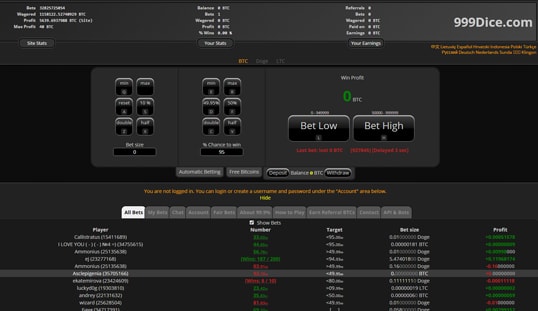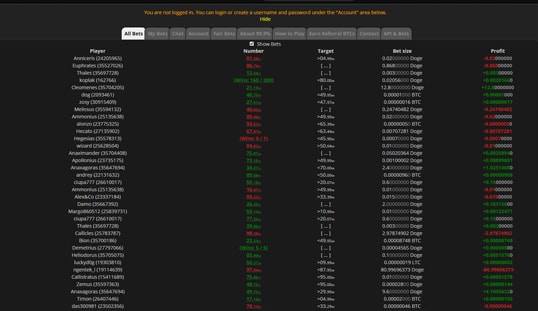 Withdrawal & Deposits
Funds can be deposited in two ways: sending it directly to the wallet address posted on the site or scanning the provided QR code. All deposits will reflect immediately on the account, enabling players to make bets right away. Meanwhile, cashing out does not require complicated steps, but take note of the standard transaction fee of 0.0001 BTC to be deducted per withdrawal. Payment options include
Bonuses & Promotions
While 999Dice doesn't offer deposit bonuses and promotions, a Bitcoin faucet has been integrated. The faucet gives 100 satoshis per account, once per IP address, and once every five minutes. Take note that it will be deactivated from time to time if players abuse the faucet. Faucets are available for all cryptos, and you can be playing dice with free crypto in a couple of minutes.
You can also earn some extra crypto through the Referral program. Have players come to the site through your affiliate link, and you will get 50% of the house edge on every bet they make. It equals to about 50 cents on every $100 wagered. While that's not a ton, it's free crypto.
Support
Customer support is one area that this site falls short. A chat box is available on the site, but it is primarily user chat. Admins may be available infrequently. The site also has a contact form on which players can send their issues and concerns. Unfortunately, there's no live chat or email support at this time.
Frequently Asked Questions
They are! You can deposit using Litecoin, Ethereum, and Doge. Doge appears to be very popular on the site, so Dogecoin gamblers should check it out.
All accounts at 999Dice are anonymous accounts. The site automatically assigns an account when you visit the website. You can then set up a username, password, and email to secure your account. However, you will never be asked to enter personal information at any point.
999Dice does not charge fees to deposit. However, there is a .0001 BTC fee to cash out. This is in addition to any miner fees.
Yes! 999Dice is compatible with most mobile web browsers. Use Chrome or Safari for best results.
Nope. Crypto only, which is how it should be.
You can! 999Dice offers faucets for Bitcoin, and all altcoins accepted by the site. You can make a request every 2.5 minutes. However, you will be banned if you try and automate the process.
Yes, US players can register and play on the website. Note that you are still responsible for reporting winnings to the IRS.
999Dice is completely legitimate and offers the utmost in transparency. They offer provably fair bets, which you can verify on the website. You even have access to the code used to process and verify bets.